Those who were alive on Nov. 22, 1963 know where they were when the news broke that President John F. Kennedy had been assassinated. I was in elementary school, and can still recall the announcement from our principal, Emmaline McGerrigle. She was your classic white-haired schoolmarm, tough as nails, very hidden heart of gold. That day, she cried over the P.A.
It was 54 years ago, and our president had been shot. It still hurts. We still wonder why. And for many people, the circumstances surrounding his death remain an unsolved mystery.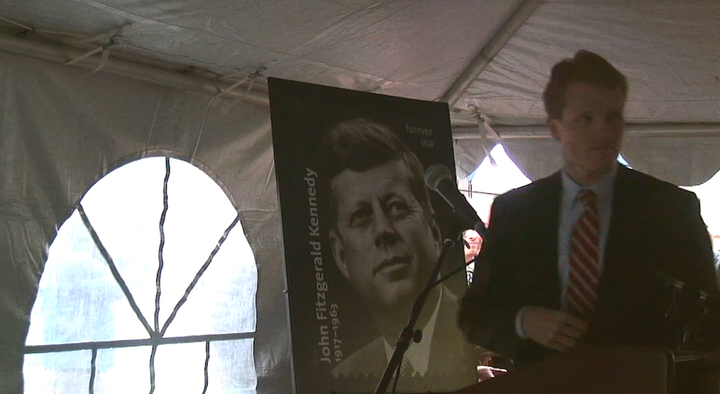 But this past Monday, he was celebrated.
Born 100 years ago in Brookline, Mass. on May 29, 1917, JFK ascended to the highest office in the land, capturing hearts and inspiring minds along the way. In January, 1961, he became the youngest president ever elected. Two short years later, at age 46, he was gone.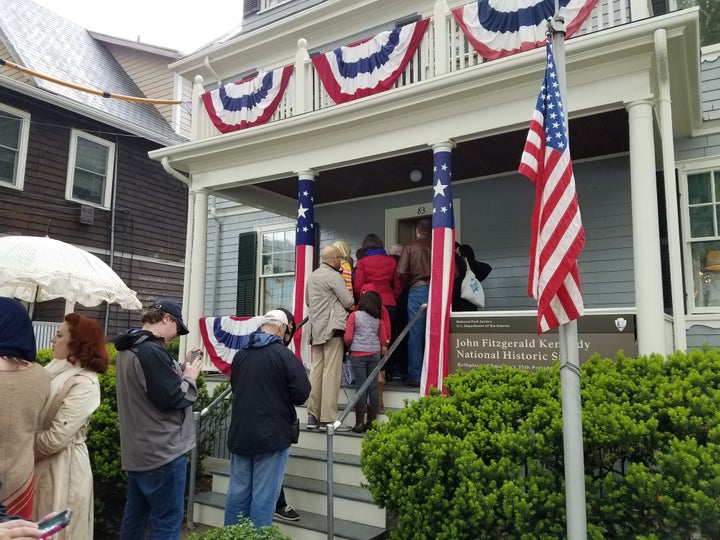 The bullets of the false revenge have struck us once again / As the angry seas have struck upon the sand / And it seemed as though a friendless world had lost itself a friend / That was the president and that was the man.
60s folksinger Phil Ochs, in his song "That Was the President," captured the pain felt across America and the world that dark day, but also, the legacy that survived.
At 83 Beals St. In Brookline, JFK's great-nephew U.S. Rep. Joe Kennedy III paid tribute to over 500 people who braved appropriately overcast weather, appropriately on Memorial Day, at the John Fitzgerald Kennedy National Historic Site, the modest slate-gray house where the 35th U.S. president was born. The United States Postal Service dedicated a new JFK "Forever'' postage stamp, there was birthday cake, and hundreds toured the home where Rose and Joseph P. Kennedy had seven of their nine children.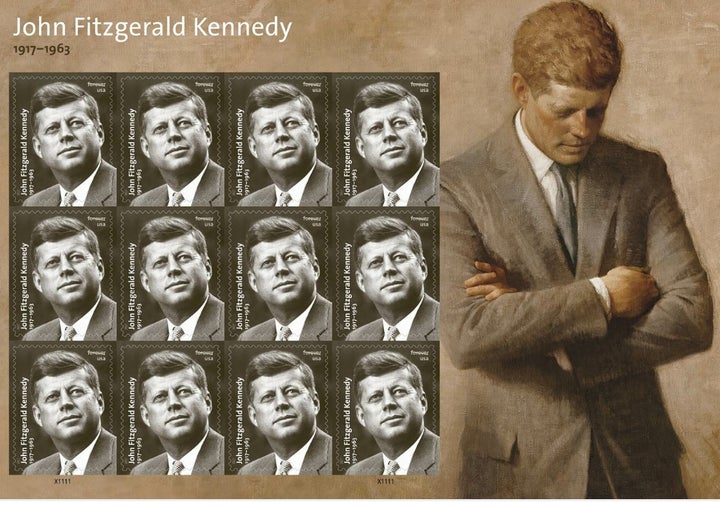 A U.S. Navy jet flyover set for the 3 p.m. hour of his birth was cancelled due to the weather, but New York-based American roots band Tin Pan Trio performed, and earlier in the day, former Gov. Michael S. Dukakis was among those who read from JFK's renowned speeches.
Fran Sypek traveled from Western Mass. with his wife, Joan. Since 1995, he's been writing a book on presidential sites, monuments and libraries. He began visiting presidential sites with a friend who was a history teacher. "I said hey, if we're going to keep doing this, I could do a book," he recalled.
On the Sunday before the election, the Sypeks took a day trip to New York, and decided to snap a picture at Trump Tower, just in case. "Two days later I got the shock of my life," he said. Sypek keeps up with renovations and updates to sites, and revisits accordingly. He also includes incidental material. "My nephew got a statue of a 10-year-old Barack Obama in Indonesia," he said.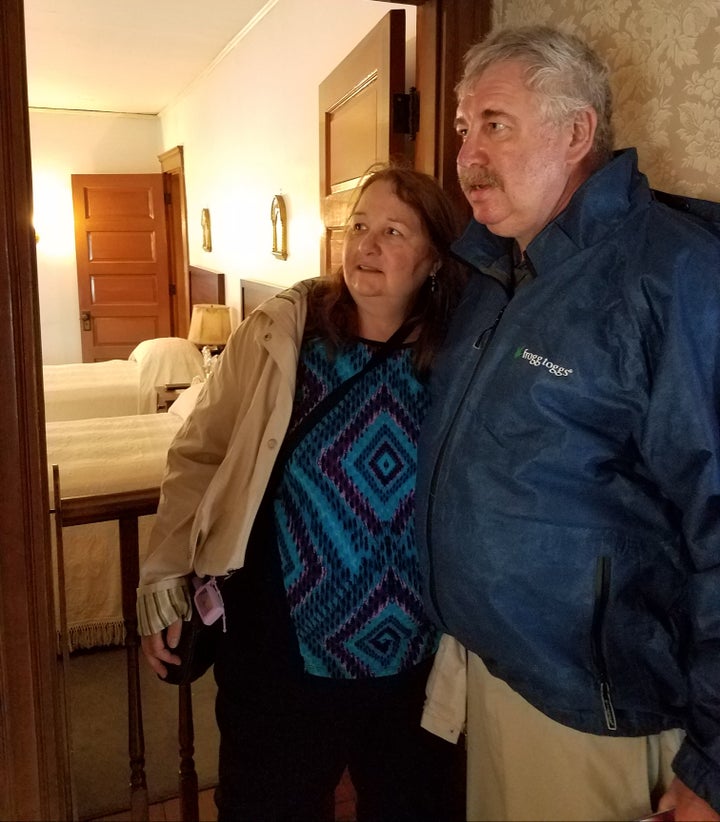 I still can see him smiling there and waving at the crowd / As he drove through the music of the band / And never even knowing no more time would be allowed / Not for the president and not for the man.
Downstairs in the visitors' area, "The Shaping of the President" was screening.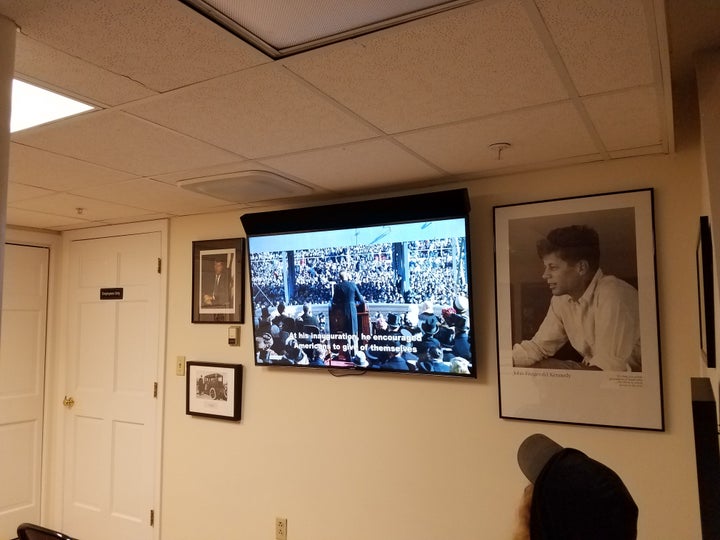 The new 17-minute film was produced by Matthew MacLean of Boston for the National Park Service. MacLean told me that visitors to the site had been shifting. "It used to be people who knew of President Kennedy, and were alive during his administration," he said. "But now, they tend to be younger, and both national and International, and they don't know the full story about him, beyond his name."
It's not only for the leader that the sorrow hits so hard / There are greater things I'll never understand / How a man so filled with life, even death was caught off guard / That was the president and that was the man.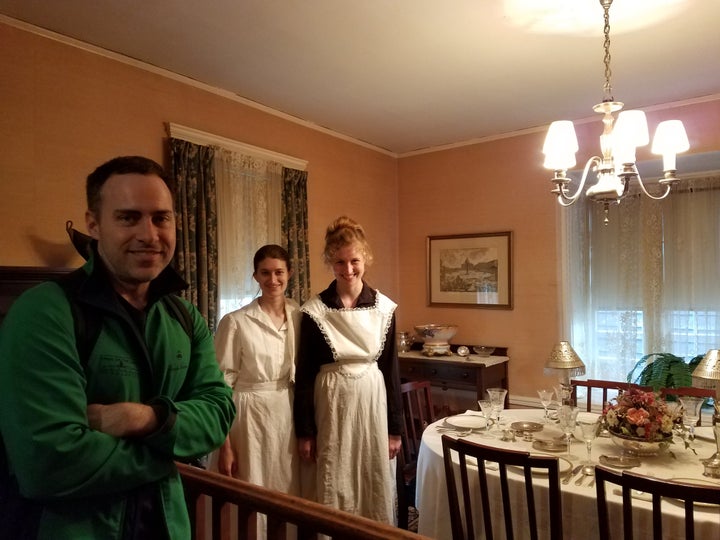 MacLean said the National Park Service wanted the film to make a connection between the house, and Kennedy's upbringing, to his later presidency, and his policies as president. Nearby, reenactors of Kennedy family domestic workers Elena Rippel (who portrayed Alice Michelin from France) and Kathleen O'Leary (Mary O'Donahue from Ireland) bantered in period attire and 1917 vernacular about the joys and challenges of serving a 9-member family in the home.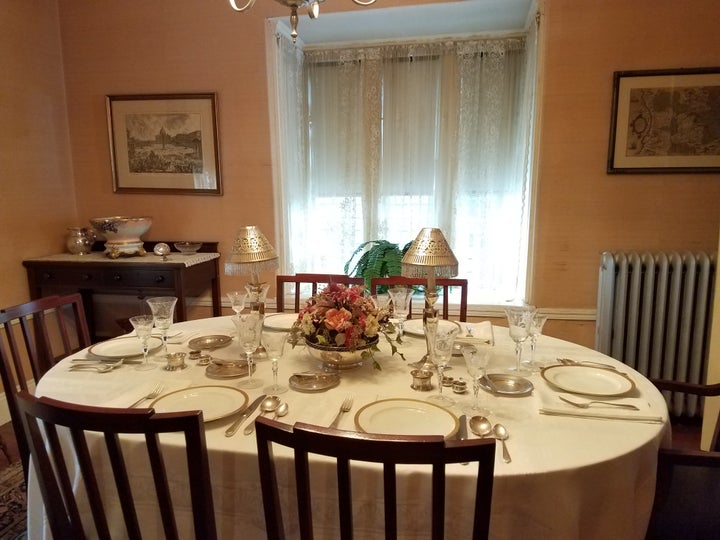 And that could not have been easy, with one bathroom, small bedrooms and few places to spread out in the unostentatious abode. The future president shared a nursery room with older brother Joe, who was born in July, 1915. We looked at the baby JFK's original bassinet with wonder and poignancy.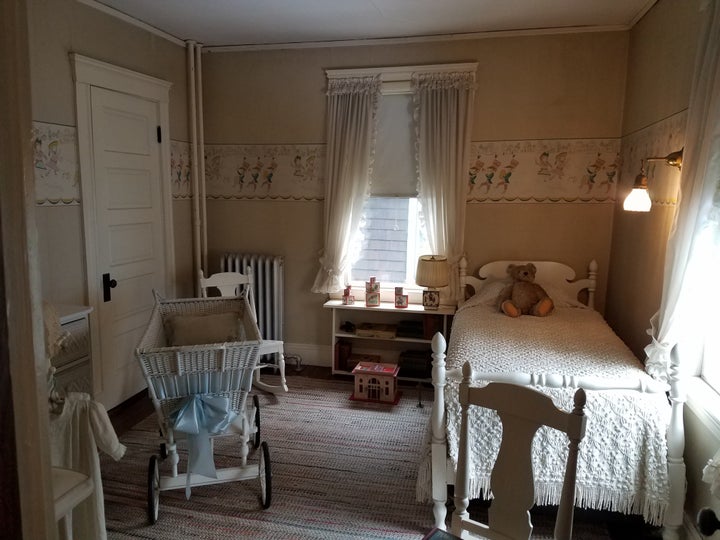 Everything he might have done and all he could have been / Was proven by the troubled traitor's hand / For what other death could wound the hearts of so many men / That was the president and that was the man.
That night, a '60s sock hop dance was held at Brookline High School, with retro attire and vintage food and cocktails, to benefit the town's JFK 100 activities and the National Historic Site.
Many at Beals Street had also stopped at the celebration at the John F. Kennedy Presidential Library and Museum several miles away. Festivities there included a performance by the U.S. Navy Band, remarks from Boston Mayor Marty Walsh, and a 540-pound cake made by Montilio's Bakery, the company that made the engagement cake for Kennedy, then a Senator, and Jacqueline Bouvier.
A new exhibit, "Milestones and Memories," opened on May 26; artifacts include a scrapbook from JFK's time at the Choate school in Wallingford, Connecticut, photographs, journals from his congressional trips around the world, documents, speeches and notes, neckties and more.
Arlington National Cemetery in Virginia held a ceremony on Monday morning as well. But all across the country, people paused and remembered who he was, and what could have been.
Here's a memory to share, here's a memory to save / Of the sudden early ending of command / Yet a part of you and a part of me is buried in his grave / That was the president and that was the man.
"I'm old enough to remember when Kennedy was assassinated," said Joseph Paul of Brookline, on Beals Street.
"I admired him because of the man he was," he continued, his face as stricken as it surely was in 1963. "To me, of all the Kennedys, he was the most trustworthy and the most dedicated."
Following the assassination, Paul visited libraries and archives, and his research continues.
"It's a complex, staggering and monumental historical incident," he said.
The Sobel family of Great Neck was visiting an uncle in Boston. Their son had studied JFK, and they decided to visit the house, where they paid tribute.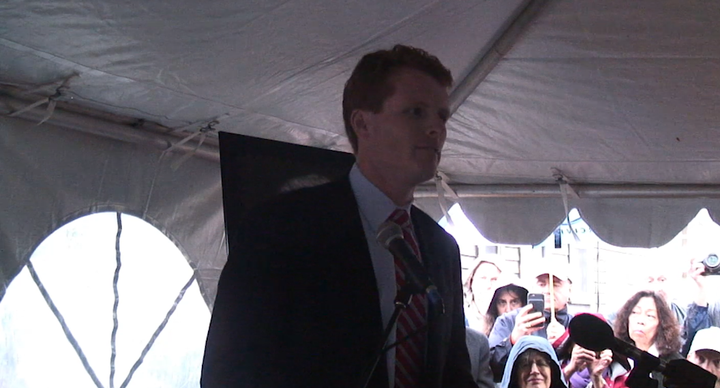 In his remarks, Joseph P. Kennedy III spoke of the patriotism and the common cause that his great uncle had inspired, and the "shared history that binds us all as a community, a commonwealth, and a country." He urged people to remain true to their highest values in our current political climate, where that common future may feel tenuous.
"Today, our country faces those who seem intent on dividing Americans up, rather than pulling us together," he said. "One system for the powerful, the wealthy, the healthy; another for the sick and struggling and suffering. One country for those who pray to a certain God, love a certain person, or look a certain way, and another lesser, weaker nation for everyone else.
"It is hard — for many of us — to be proud of that mission."
But, he said, in times of "such doubt and division...this centennial reminds us of our collective saving grace." That, he said, was "ensuring President Kennedy's enduring faith in the capability of our nation.
"In the moments that matter most, we exceed our expectations. We expand, and we accept. We rescue, we protect, we survive. We open, we give, we heal, and we help. We choose to be heroes to a loved one, to a stranger, to a cause, to a country.
"And that inherent characteristic inside everyone is more than any law, or any leader," Kennedy said. "No single person — no bully, no stubborn monster like prejudice or injustice — in the end, none of them can match the small, personal, and courageous ways that Americans — that we — choose goodness every single day.
"President Kennedy knew that was true for each of us. He spoke it, he lived it — and It inspired a nation to continue to rise to his challenge today."
Ochs' voice cracks on the final stanza.
Yes, the glory that was Lincoln's never died when he was slain / It's been carried over time and time again / And to the list of honor you may add another name / That was the president and that was the man.
That was the president and that ...
Susie Davidson tweets at @SusieDavidsonMA.