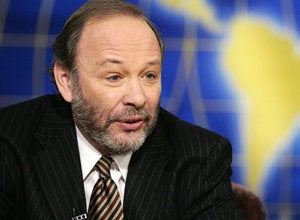 Time columnist Joe Klein, who's been a forceful critic of the McCain campaign (and already said he's unwilling to accept a post-election apology), has found himself without a seat on the McCain or Palin the past four months.
In June, Klein was kept from boarding the McCain plane over what they said had been a security issue. More recently, when trying to fly on the Palin plane last week, Klein told Politico over e-mail that the campaign's response was he "couldn't be accommodated at this time."
"I've done nine presidential campaigns and this is the first time this has ever happened to me," Klein said. "I was even allowed--I won't say welcomed--on the Clinton plane in the summer of 1996 after I was revealed as the author of Primary Colors."
"I rode with McCain during the primaries, but not since I asked him--at a June press conference--whether he really believed Ahmadinejad was the 'leader' of Iran, since he has no control over foreign policy or the nuclear program," Klein continued. "That was when they suddenly told me that I hadn't called in time to get secret service clearance. (I had called more than a day in advance.)"
Related
Popular in the Community