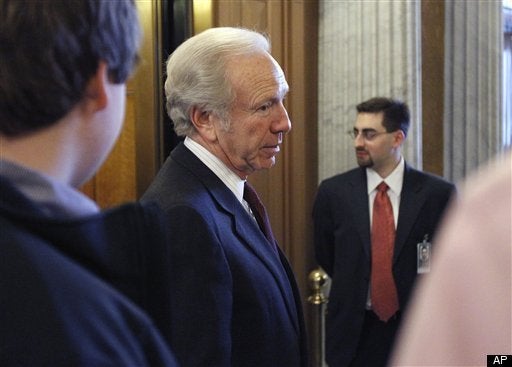 UPDATE - Jan. 19 - 11:40 a.m. - In a message to supporters forwarded to HuffPost, Joe Lieberman announced that he's ending his Senate career, quoting the Old Testament. "I have decided it is time to turn the page to a new chapter, and so I will not be a candidate for re-election to a fifth term in the U.S. Senate in 2012," he wrote. "The reason for my decision, after 40 years in elective office, is best expressed in the wise words from Ecclesiastes: 'To everything there is a season, and a time to every purpose under Heaven.' For me, it is time for another season and another purpose under Heaven."
WASHINGTON -- Joe Lieberman will not run for reelection in 2012, Connecticut Democratic sources tell HuffPost, ending his four-term Senate career. Two prominent House Democrats, Chris Murphy and Joe Courtney, are eyeing a bid, with Susan Bysiewicz, a thrice-elected former secretary of state, also jumping into the race.
Lieberman, who lost a 2006 primary to netroots insurgent Ned Lamont, will announce his retirement on Wednesday. "Senator Lieberman made a decision about his future over the holidays which he plans to announce on Wednesday," a Lieberman spokesman said. In 2006, Lieberman ran under a party he created called Connecticut for Lieberman. Anti-Lieberman activists, however, have since taken it over.
As Lieberman deliberated, the new chair of the Democratic Senatorial Campaign Committee, Sen. Patty Murray (D-Wash.), told HuffPost that the party would consider supporting Lieberman if he returned to the fold.
"This is first a Connecticut decision. It's a Joe Lieberman decision and we'll work our way through all of that," Murray said. "He and I have chatted a number of times."
Lieberman serves as a repository for the anger progressive Democrats have for centrists in -- and out of -- the party, and some would like little more than to unseat him at the polls. The feeling of ill will is mutual: Lieberman said during the health care debate that one reason he opposed a Medicare buy-in compromise was that progressives were embracing it.
Lieberman's participation in the race would have drawn national attention -- and money -- to the Connecticut race, leaving his political adversaries hoping that he would run.
A Connecticut Democratic insider said that Courtney, Murphy and Bysiewicz all benefit from a Lieberman campaign. "They would raise so much money, they'd get a ton of enthusiasm and a ton of earned media," he said. "I don't think he has a path to victory at all, period. That said, a Democrat has a better chance of winning against, say, Linda McMahon alone than Linda McMahon, Joe Lieberman and a Democrat."
Both Courtney and Murphy have reached out to the Connecticut labor community to gauge support for a run and, say two different Washington-based Democrats, each is all but certain to make a bid.
"My interest in running for Senate in 2012 is well known in the state, and I expect to announce my decision very soon," Murphy said. "All I can say now is that this is going to be a pretty busy few weeks."
A well-sourced Connecticut blogger first reported that Lieberman will announce his departure. Lieberman's staff has been notably silent about the Senator's plans, and D.C.-based Democrats say -- as of Tuesday afternoon -- they have no clue what his thought process is going into tomorrow's announcement. Local press, however, has also reported that the Senator will announce that he won't run for re-election. "You can bet the farm" that Lieberman won't seek a fifth term in 2012, a Democratic insider close to the Senator told the Hartford Courant.
Popular in the Community