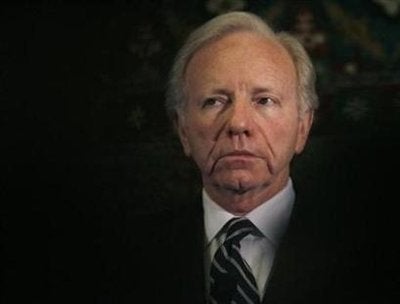 This week, Robert Greenwald and Brave New Films launched LiebermanMustGo.com, a website petitioning Senate Democrats to strip Sen. Joseph Lieberman of his powerful committee positions in 2009.
Lieberman still holds a top rank within the Senate Democratic Caucus as chairman of the Homeland Security and Governmental Affairs Committee. The Senate Democratic Steering Committee needs to know just how much of a conflict of interest this is. That's why we created Lieberman Must Go.

Here's what you can do: Sign our petition today and tell the Senate Democratic Steering Committee to strip Lieberman of his leadership role in Congress. Then, e-mail this video to everyone you know and spread it on sites like Digg and elsewhere.

Recently in Talking Points Memo, Josh Marshall suggested that the best way to limit Lieberman is by encouraging the Steering Committee to render him powerless in 2009. Lieberman must go, and you can make that happen by donating to Brave New Films today.
Yesterday, Lieberman himself responded to the campaign. The Hartford Courant reports:
When asked about the new www.LiebermanMustGo.com Web site, Sen. Joe Lieberman said this afternoon that it certainly had the right to collect signatures demanding he be shoved out of his Democratic Party positions next year. But he said, "I think most people in this country are really tired of this kind of partisan politicking."

So, what's his plan to counter the petition?

Lieberman joked, "I'm not going to sign."
Popular in the Community