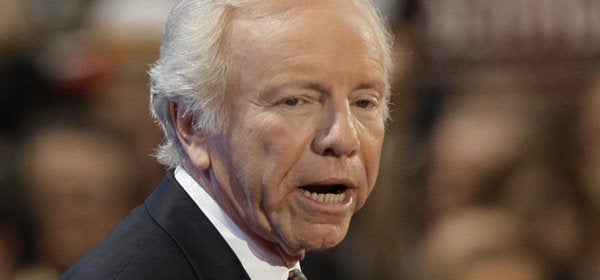 Senate Majority Leader Harry Reid will meet with Joe Lieberman on Thursday to discuss how the disaffected, controversial Connecticut Democrat-Independent fits into the future of the party.
A source with knowledge of the situation says that Reid will likely tell Lieberman that he is being stripped of his committee chairs -- a retributive move for the former vice presidential nominee's anti-Obama, anti-Democrat advocacy on behalf of John McCain.
A second source on the Hill could not definitively confirm that this would happen. But he said that leadership was far from the position it held back in February, when it was assumed that Lieberman's committee chairmanships would be safe.
There are still various outstanding issues that have the potential to prominently change the composition of the Senate. As of now, races in Alaska, Georgia and Minnesota are still undecided. Moreover, it has yet to be determined what will happen with the spots currently occupied by Sens. Barack Obama and Joe Biden. And on a process level, the Senate's Steering and Outreach Committee also has the opportunity to make recommendations about committee assignments.
"There are," the source says, "a lot of moving parts. There is genuine suspense around what is going to happen to Lieberman."
Lieberman chairs the Homeland Security and Governmental Affairs Committee, the subcommittee on Private Sector and Consumer Solutions to Global Warming and Wildlife Protection, and the Subcommittee on AirLand Forces. If he is booted from these posts, he very well may leave the Democratic Caucus entirely. What he can be offered by the Republican Party in terms of committee assignments remains to be seen.

Popular in the Community