Manchin first appears in the film, which can be seen above, at the 7:37 mark, saying how coal helped America overcome "the stranglehold the British had on us" and "our own Civil War." He later discusses monitors that track the amount of methane gas in coal mines, and comments on how using fuel sources other than coal would "drive the price [of energy] unbelievably high."
Manchin is shown later in the film, around the 27:00 minute mark, saying he "never heard" claims of natural gas being present in the Upper Big Branch mine, a belief pushed by Blankenship that the Mine Safety and Health Administration has rejected.
On April 5, 2010, an explosion that a Mine Safety and Health Administration report attributed to the ignition of methane gas caused the deaths of 29 miners in Massey's Upper Big Branch coal mine in Montcoal, W.Va. The MSHA cited "a workplace culture" at Massey "that valued production over safety," saying that the company cut corners in a way that put workers' lives at risk. Blankenship continues to push the theory that the incident was actually a natural gas explosion.
Manchin spokesman Jonathan Kott told The Huffington Post the senator's office was unaware the film was tied to Blankenship.
"We had no idea and were never notified about the source of funding for this film," Kott said. "Our understanding was that it was about mine safety."
Dave Boucher of the Charleston Daily Mail reports that a spokesman from Manchin's office said the senator was "deceived" by the company that made the film.
Manchin's office later supplied the following statement to HuffPost:
Adroit Films, the propaganda firm behind this shameful documentary, never disclosed to me the intent of this film. They lied to my face and told me this documentary was focused on mine safety, an issue I have been committed to since the Farmington Mine disaster that killed my uncle and 77 miners. Had I known the film was in any way associated with Don Blankenship, I would have never agreed to the interview. I spoke with them for more than half an hour about mine safety and how we must prevent an Upper Big Branch disaster from ever happening again. Yet, the producers only dedicated one minute and thirty-two seconds of my thirty-minute interview to mine safety -- one of the most important issues in West Virginia -- to attempt to vindicate Don Blankenship. He should be more concerned with his role in the deaths of 29 brave miners and the ongoing U.S. Department of Justice investigation rather than filming a propaganda documentary. I am not only livid that I was lied to, but I am even more enraged that Don Blankenship would manipulate a tragedy to promote himself and his own agenda. I am going to pursue every legal recourse available against Adroit's despicable tactics. The most tragic part of all of this is that the families of these miners are forced to suffer yet again at the hands of Don Blankenship.
The film states that the MSHA did know of Blankenship's involvement in the project and refused to be interviewed because of the former CEO's role.
Blankenship's film asserts that the MSHA's conclusions about the disaster "were wrong," instead highlighting the findings of "independent experts" like Dr. Martin Hertzberg, a mine, fire and explosion expert and climate change denier who says in the film that it's an "insult to the miners" who died to think they would work in unsafe conditions.
UPDATE: 9 p.m. -- During an appearance on MSNBC's "All In with Chris Hayes," Blankenship responded to Manchin's criticism, saying the film was not made with the senator's agenda in mind.
"I didn't talk personally to Joe Manchin but again, Joe Manchin didn't say anything in there that's going to save any coal miner's lives or make things safer or healthier for them," Blankenship said.
Blankenship said he only funded the film and insisted he was not involved in any discussions with Manchin during the film's creation.
Before You Go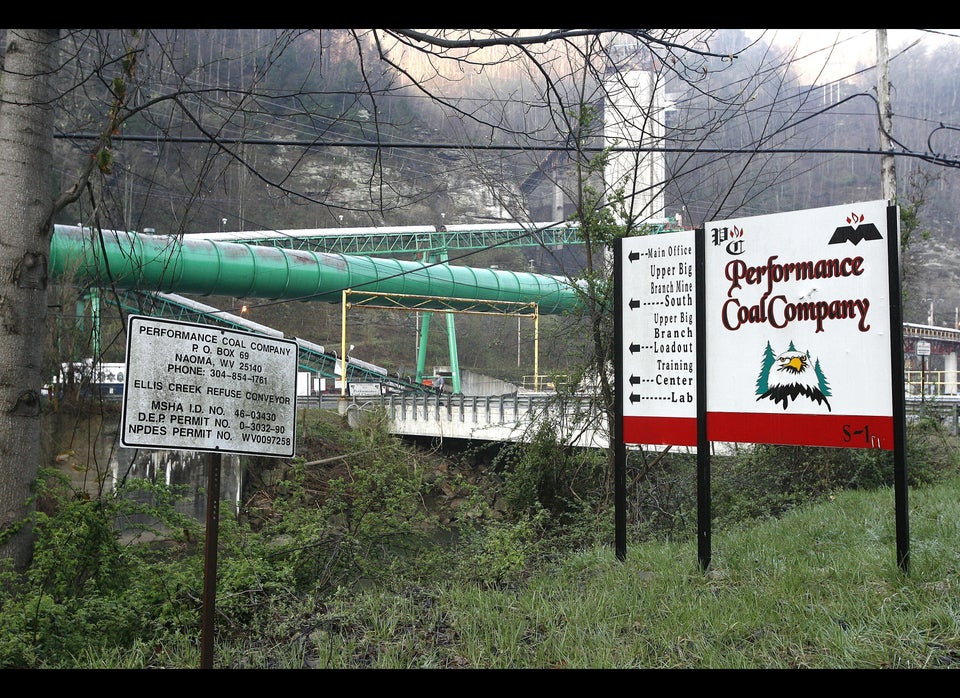 Major American Mine Disasters
Popular in the Community