Sen. Joe Manchin (D-W.Va.) says that a new "war on drugs" is needed to combat the opioid crisis ravaging his home state ― a reference to a policy boondoggle that has spanned four decades and cost the U.S. more than $1 trillion, while destroying millions of lives and cementing America's position as the world's leading jailer.
"We need to declare a war on drugs, on illicit drugs," Manchin told CNN's Jake Tapper on "The Lead" when asked what President-elect Donald Trump should do to address the opioid epidemic.
West Virginia has been hit especially hard by substance abuse and addiction. A recent report by West Virginia's Charleston Gazette-Mail detailed how drug companies have poured 780 million opioid painkillers into the state and cashed in while ignoring warning signs that the opioid epidemic was spreading as overdoses spiked.
But the drug war, first declared by President Richard Nixon in 1971 when he characterized illicit substance use as "public enemy number one," has in recent years become widely derided as a public policy failure.
The public's attitude has also shifted dramatically on drug policy since the drug war's inception. About two-thirds of Americans believe illegal drug use should be met with treatment instead of incarceration, according to a 2014 Pew study.
In an attempt to explain how drug users in his state got addicted to opioids, Manchin told Tapper that they "started out as a kid, smoking what we call recreational marijuana. Then from there that led to prescriptions ... and before you know it ... they were just hooked. Then heroin comes on. Now we have fentanyl coming on. It's just been unbelievable."
Manchin is discussing what's known as the "gateway" theory, a widely debunked criticism of marijuana use that suggests drug users begin with marijuana before graduating to harder drugs over time. The Gazette story also suggests that Manchin is drastically oversimplifying the causes of the epidemic. This catastrophe was driven in large part by corporate greed. (Manchin's daughter, Heather Bresch, is chief executive of Mylan, a large pharmaceutical company that makes generic versions of off-patent opioids, as well as other drugs.)
With the opioid crisis devastating communities across the nation, leading to a drastic increase in overdose deaths in recent years, the U.S. needs real solutions, multiple drug policy experts told HuffPost. But it shouldn't consider doubling down on failed drug policy, they said.
"A drug war is not the answer," said John Hudak, a senior fellow at the Brookings Institution who writes extensively on drug policy. "Empty rhetoric that is insensitive to historical drug policy realities is not the answer. Comprehensive, thoughtful, public health-driven national reforms are the answer."
Lindsay LaSalle, senior staff attorney for Drug Policy Alliance said a new drug war would only "doom the residents" Manchin represents to further death and despair.
"Indeed, criminalization actually amplifies the risk of fatal overdoses and diseases, increases stigma and marginalization, and drives people away from needed treatment, health, and harm reduction services," LaSalle said. "Forty years of failed prohibitionist policies have taught us this much."
LaSalle said that what West Virginians struggling with opioid addiction really need is increased access to the opioid overdose reversal drug naloxone, medication-assisted treatment to help with recovery, and syringe exchange programs to prevent the spread of intravenous disease.
"Focusing on arrests and incarceration has made the U.S. the world's leading incarcerator, and it didn't stop what's happened with opioids," said David Borden, executive director of StoptheDrugWar.org. "Instead, Sen. Manchin should call for a public health approach."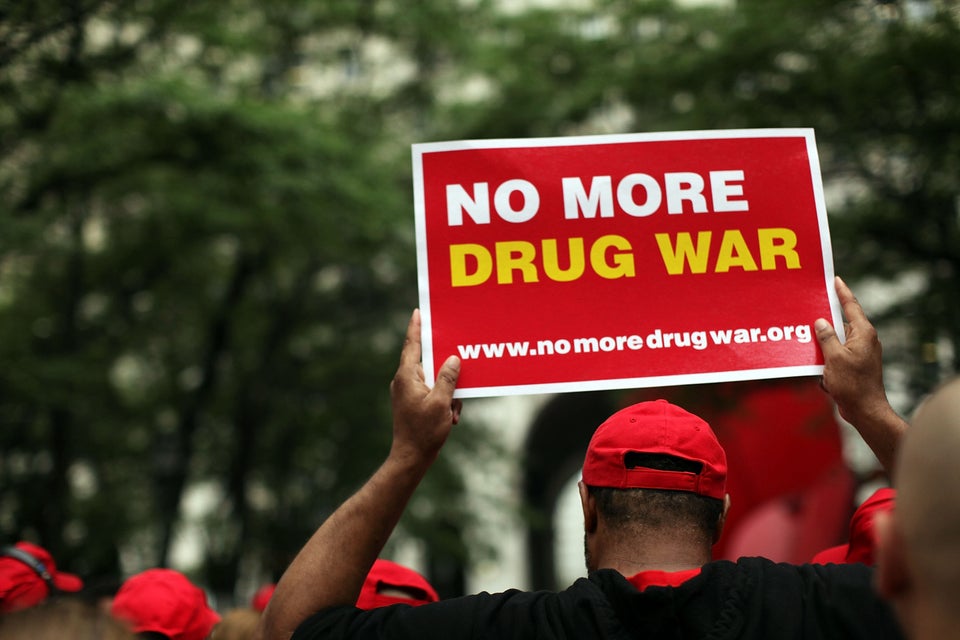 27 Reasons Why U.S. Shouldn't Lead War On Drugs
Popular in the Community