Sen. Joe Manchin (D-W.Va.) announced his opposition to Julie Su, President Joe Biden's choice to lead the Department of Labor, likely dooming her chances of confirmation in the narrowly divided Senate.
"I believe the person leading the U.S. Department of Labor should have the experience to collaboratively lead both labor and industry to forge compromises acceptable to both parties," Manchin said in a statement. "While her credentials and qualifications are impressive, I have genuine concerns that Julie Su's more progressive background prevents her from doing this and for that reason I cannot support her nomination to serve as Secretary of Labor."
Manchin holds outsize leverage over Su's confirmation given unanimous GOP opposition and several undecided senators who caucus with the Democrats, including Jon Tester (D-Mont.) and Kyrsten Sinema (I-Ariz.).
A spokesperson for Sinema told HuffPost the senator doesn't preview her votes and wouldn't comment on her position, but the White House suggested that Sinema also opposed Su's nomination.
"The President's support for Acting Secretary Su is unwavering, and we hope Senator Manchin and Senator Sinema reconsider their position," a White House official said in a statement on Thursday.
Su, the acting Labor Department secretary, previously served as California's top labor official, overseeing workplace safety and policing wage theft in the country's most populous state. Labor unions and progressive groups enthusiastically backed her nomination, saying she would aggressively enforce workplace protections, particularly for the most vulnerable low-wage workers.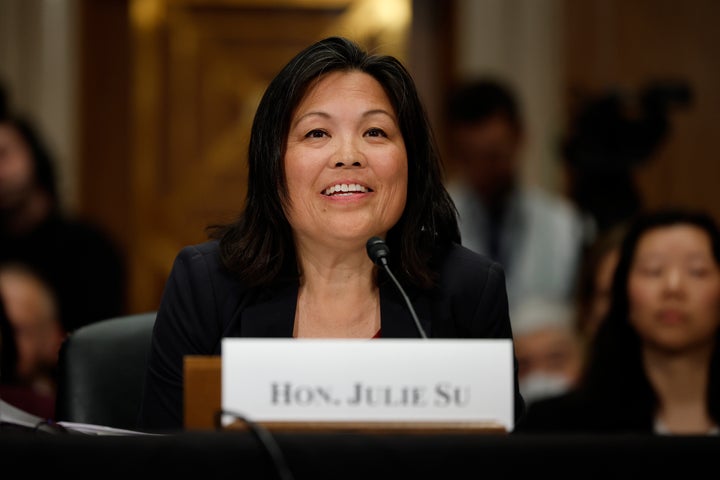 Groups representing Asian Americans and Pacific Islanders also pushed hard for Su, a daughter of Chinese immigrants, to become the first Asian American to serve as a Cabinet secretary under Biden.
But Su ran into a wall of opposition from Republicans and GOP- allied business groups who claimed she is anti-business. Republican senators also criticized Su for how she administered California's unemployment insurance during the COVID-19 pandemic. The state saw high unemployment fraud, though fraud was high around the country at the time.
Democrats say there's no rush in getting Su confirmed and that she should stay on the job running the Labor Department in an acting capacity.
"She can certainly be in place as acting [secretary] as long as she needs to because she's already been Senate confirmed," Sen. Tammy Duckworth (D-Ill.) recently told HuffPost.
For Manchin, Su is only the latest Biden nominee he has played a prominent role in blocking. The conservative West Virginia Democrat is up for reelection next year, and although he hasn't announced yet whether he will seek another term, he's certainly sounded like an endangered candidate running in a red state that voted heavily for Donald Trump.
Earlier this year, West Virginia Gov. Jim Justice (R) announced his campaign for Senate in 2024. Justice is a top recruit for Senate Republicans, and his candidacy gives the GOP one of their best opportunities to flip a Senate seat next year.
Manchin also hasn't ruled out a third-party bid for president. The senator is set to appear at a town hall in New Hampshire on Monday hosted by No Labels, a move that's generating fresh speculation about a spoiler campaign for President Joe Biden's reelection chances.
Support HuffPost
The Stakes Have Never Been Higher
Popular in the Community