Sen. Joe Manchin (D-W.Va.) announced on Friday that he is opposed to confirming Neera Tanden, President Joe Biden's nominee to direct the White House's Office of Management and Budget.
Given the even partisan split of the Senate, Manchin's objection jeopardizes Tanden's confirmation, which would require at least 50 votes, and risks handing Biden his first major political defeat as president.
Manchin, a conservative Democrat representing an increasingly Republican state, cited Tanden's "overtly partisan" comments to explain his position.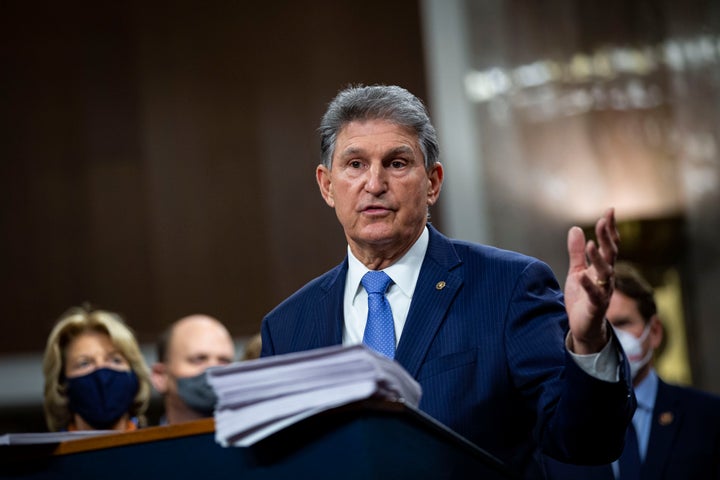 "I have carefully reviewed Neera Tanden's public statements and tweets that were personally directed towards my colleagues on both sides of the aisle from Senator Sanders to Senator McConnell and others," Manchin said. "I believe her overtly partisan statements will have a toxic and detrimental impact on the important working relationship between members of Congress and the next director of the Office of Management and Budget.
"For this reason, I cannot support her nomination," he continued. "As I have said before, we must take meaningful steps to end the political division and dysfunction that pervades our politics. At a time of grave crisis, it is more important than ever that we chart a new bipartisan course that helps address the many serious challenges facing our nation."
The Office of Management and Budget is responsible for assembling the president's annual budget proposals and implementing the president's agenda across executive-branch agencies.
As president of the Center for American Progress, a think tank aligned with the Democratic establishment, Tanden maintained a combative Twitter presence for several years, deriding numerous Republican lawmakers as well as Sen. Bernie Sanders (I-Vt.).
Following Manchin's remarks on Friday, the White House expressed its continued support for Tanden's nomination.
"Neera Tanden is an accomplished policy expert who would be an excellent budget director, and we look forward to the committee votes next week and to continuing to work toward her confirmation through engagement with both parties," White House press secretary Jen Psaki told the White House press pool.
Biden affirmed the White House's support for her in subsequent comments to the pool.
"I think we are going to find the votes and get her confirmed," he said.
At least one other key senator's intentions are less clear. In a CNN interview on Friday evening, Sanders, who chairs the Senate Budget Committee, declined to say whether he plans to vote for Tanden's confirmation or whether he thinks Biden should withdraw her nomination.
"I will be speaking to her early next week to get a sense of what she wants to do as head of the OMB," Sanders said.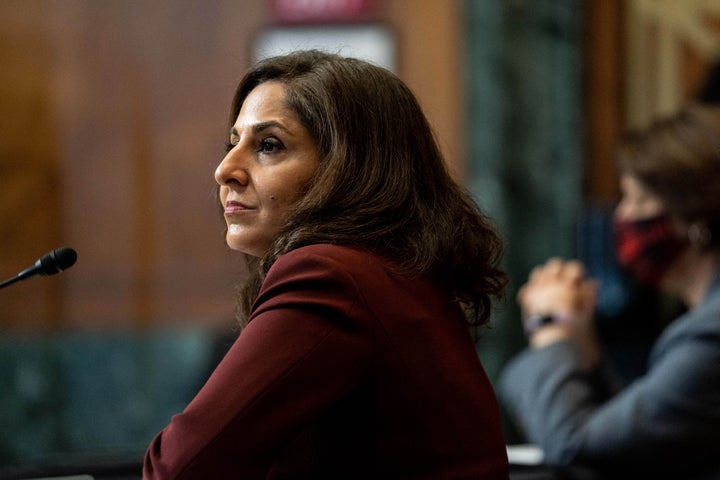 In tweets that have since been deleted, Tanden at various times referred to Senate Minority Leader Mitch McConnell (R-Ky.) as "Voldemort" and aggressively censured Republican senators for standing behind former President Donald Trump. She was also publicly critical of more moderate Republicans whose votes she will need if she is to be confirmed. In a now-deleted tweet, she said Sen. Susan Collins (R-Maine) should be haunted by her "terrible treatment of Dr. [Christine Blasey] Ford" during Supreme Court Justice Brett Kavanaugh's confirmation hearings.
Following Tanden's nomination, Republican senators were quick to take note of her online presence.
Sen. John Cornyn (R-Texas) told reporters that Tanden was Biden's "worst nominee so far" and that "her combative and insulting comments...creates certainly a problematic path."
Her relationships are also strained within her own camp. She has been critical of the progressive wing of the Democratic Party, a tension that escalated during the 2016 presidential primary between Sanders and Hillary Clinton.
Unlike many Democratic leaders who sought to reconcile with Sanders, Tanden continued to joust with the Vermont senator and his allies. Sanders' 2020 presidential campaign didn't shy away from the tension, writing a scathing letter in early 2019 deriding CAP as a divisive organization looking to stomp on progressive candidates. Pro-Sanders grassroots groups have been campaigning against Tanden's nomination.
Sanders pressed Tanden to answer for some of her remarks during a confirmation hearing last week. Tanden expressed regret for her comments and promised to abandon her old habits going forward.
"I apologize to people on either the left or right who are hurt by what I've said," she said.
Tanden endured harsher questioning from Republican senators, though, suggesting that her confirmation vote could occur along partisan lines and granting Manchin outsize power over her future.
Sen. Josh Hawley (R-Mo.) listed donations CAP has taken, including money from Facebook CEO Mark Zuckerberg's foundation, Wall Street financiers, foreign governments and big tech, questioning whether Tanden could be under any "undue influence" as head of OMB.
"I and the Center for American Progress aggressively [took on] the role of Facebook and tech companies, have called for higher taxes on companies, [and] regulation of companies," Tanden responded. "I'm proud of the record of the Center for American Progress and policies that would limit the power of Wall Street and limit the power of tech companies."
While Tanden's nomination wasn't welcomed by all progressives, Manchin's stance is itself likely to elicit criticism ― especially from those who were dissatisfied with his support for controversial Trump administration appointees, such as Jeff Sessions and Richard Grenell.
Popular in the Community