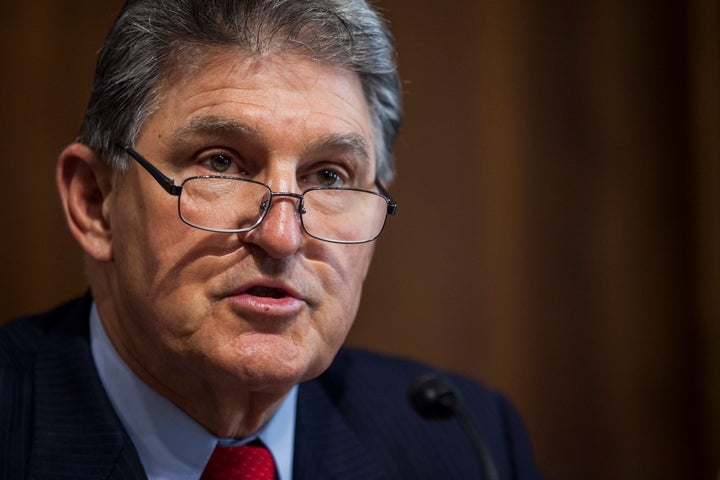 WASHINGTON ― Sen. Joe Manchin (D-W.Va.) announced Thursday that he will vote for Supreme Court nominee Neil Gorsuch, making him the first Democrat to announce support for President Donald Trump's court pick.
"Senators have a constitutional obligation to advice and consent on a nominee to fill this Supreme Court vacancy and, simply put, we have a responsibility to do our jobs as elected officials," Manchin said in a statement. "After considering his record, watching his testimony in front of the Judiciary Committee and meeting with him twice, I will vote to confirm him to be the ninth justice on the Supreme Court."
He noted that Gorsuch, who is currently a judge on the 10th Circuit Court of Appeals, has received praise from Democrats and Republicans.
"He has been consistently rated as a well-qualified jurist, the highest rating a jurist can receive, and I have found him to be an honest and thoughtful man," Manchin said. "I hold no illusions that I will agree with every decision Judge Gorsuch may issue in the future, but I have not found any reasons why this jurist should not be a Supreme Court Justice." 
Minutes later, Sen. Heidi Heitkamp (D-N.D.) announced that she will vote for Gorsuch too.
"He has a record as a balanced, meticulous and well-respect jurist who understands the rule of law," Heitkamp said in a statement. "During our meeting and at his hearing, he reinforced the importance of a judiciary that remains independent of the executive and legislative branches of government ― and that acts as a proper check and balance on the other two branches of government. I expect him to follow through on that critical tenet."
Gorsuch's Senate confirmation vote is set for Friday, April 7. Democrats have largely lined up against him and plan to filibuster him, meaning they'll require that his nomination get 60 votes in order to advance. Republicans have signaled they're prepared to change the Senate rules to get rid of the 60-vote requirement in retaliation. It's messy. 
REAL LIFE. REAL NEWS. REAL VOICES.
Help us tell more of the stories that matter from voices that too often remain unheard.
BEFORE YOU GO
PHOTO GALLERY
LGBTQ Reactions To Neil Gorsuch's Nomination