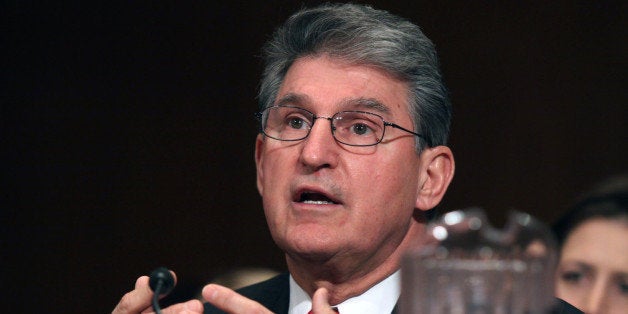 WASHINGTON -- Sen. Joe Manchin (D-W.Va.) announced on Friday that he is leaving his role as honorary co-chair of the non-partisan, centrist advocacy organization No Labels, following a disagreement over one of the group's endorsements in the 2014 midterm elections.
"No Labels began as an organization that attempted to foster bipartisan conversation amongst Members of Congress on both sides of the aisle," the senator said in a statement. "I believe in this mission, and believe that No Labels has done a lot to open a dialogue, not only between Democrats and Republicans, but also between Members of the House and Senate – something that was lacking in Washington.
"Given my position as a sitting United States Senator, who cannot be involved in the day-to-day decision making of the organization, I believe it is appropriate for me at this time to step down as honorary Co-Chair," the statement continued. "I still support the original goals of No Labels and will continue to work with them to foster bipartisan communication and bring some common sense back to Washington."
Though the statement makes no reference to it, Manchin's departure is the result of a dispute he had with the group over its endorsement of Rep. Cory Gardner (R-Colo.) in Colorado's competitive Senate race. Democratic sources told The Huffington Post earlier this week that Manchin was blindsided when No Labels gave Gardner its "problem solver seal of approval" in April. Manchin supported his Democratic colleague, Sen. Mark Udall (D-Colo.), in the race, and was not notified in advance that No Labels would be jumping into the contest.
The group's co-founder, Republican strategist Mark McKinnon, had to call Manchin up to "bring him back in the fold," according to those sources. In discussions that followed, the group pledged not to engage in the remainder of the Colorado Senate campaign. But in late October, No Labels announced that it would organize get out the vote efforts from Oct. 31 through Election Day on Gardner's behalf, once again without alerting Manchin.
Officials at No Labels argued that few should have been surprised by their endorsement of Gardner. The congressman, who handily won Tuesday's election, had signed a document agreeing to the group's principles, while Udall had not.
"The door was shut on us with Udall's office. Cory Gardner took it. We begged the Udall people and we are still probably a little bit baffled about why he never wanted to endorse this process," Nancy Jacobson, the founder of No Labels, told HuffPost last week. "The Iowa team, both candidates wanted to do it. We have just been continually baffled here."
Manchin has served as an honorary co-chair of No Labels since January 2013.
REAL LIFE. REAL NEWS. REAL VOICES.
Help us tell more of the stories that matter from voices that too often remain unheard.
BEFORE YOU GO
PHOTO GALLERY
U.S. State Capitol Buildings