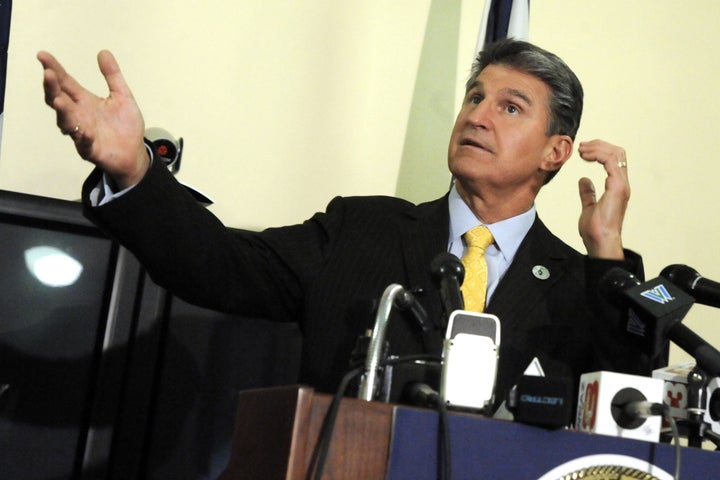 Republicans are reportedly in the midst of drawing up an incentive package that could potentially convince West Virginia Senator-elect Joe Manchin, currently the state's conservative Democratic governor, to jump ship and place an "R" next to his name.
Aside from his pick of committee assignments (likely the Energy and Natural Resources Committee), Manchin might get support for one of his pet projects - a plant to convert coal to diesel fuel that has stalled under Democratic leadership in Washington.
If Manchin were to switch parties, the action would come with a promise of $1 billion in start-up funds for the coal conversion operation, as well as the important political significance of being able to campaign for reelection in 2012 against Barack Obama, who is currently highly unpopular in West Virginia.
Perhaps more importantly, it would tighten the Senate power balance, widening prospects for a 50-50 numerical stalemate (ties could be broken by Vice President Biden, however) if Senators Ben Nelson (D-Neb.) and Joe Lieberman (I-Conn.) were to decide to caucus with Republicans as well.
"He was elected as a Democrat and he has to go to Washington as a Democrat to try, in good faith, to make the changes in the party he campaigned on," one Manchin advisor told Fox News. "Now, if that doesn't work and Democrats aren't receptive, I don't know what possibilities that leaves open."
Many can't help wondering if Manchin's rapid exodus away from his own partisan past during his Senate campaign might actually signify his willingness to switch parties, however.
His actions appeared so far removed from the Democratic platform that Sen. John McCain (R-Ariz.) was led to "suggest that the governor become a Republican and run against Rockefeller next time." Though the second part of that advice won't be necessary, the first part now at least looks like a possibility that Republicans are attempting to exploit.
Joe Manchin's spokesman rejects rumors of a party switch, and a Senate GOP aide denies that Republican leaders made any offer, according to Roll Call. See their full story here.
Popular in the Community