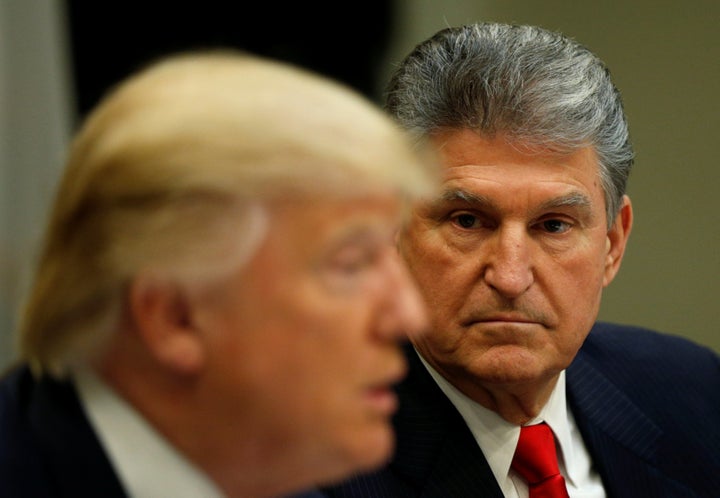 WASHINGTON ― Sen. Joe Manchin (D-W.Va.) says he has no regrets about his vote last year to confirm embattled Environmental Protection Agency chief Scott Pruitt.
"The decision has been made. It's been good for West Virginia, as far as [he] helped my state," Manchin told HuffPost on Monday. "I agree with some of his decisions. We've had a good working relationship."
Still, Manchin said that his confirmation vote "doesn't excuse anybody for not being accountable and held responsible for how they operate their office."
Manchin, who is one of the most vulnerable Senate Democrats up for re-election this cycle, said he wanted to see the results of a White House investigation into Pruitt's conduct before considering whether to join many others in his party and call for the EPA chief to step down.
While saying the question of whether Pruitt should step aside "hasn't been brought to my attention," he added that "I understand the White House is reviewing it now. So they should give us a report on it."
Manchin joined Sen. Heidi Heitkamp of North Dakota as the only two Democratic senators voting for Pruitt's confirmation, which passed on a 52-46 vote in February 2017.
Pruitt faces scrutiny over a number of potential ethical violations ― including his use government-funded flights, unapproved raises for his top staff, and a $50-a-night sweetheart deal to rent a room in a luxury Capitol Hill townhouse linked to a fossil fuel industry lobbying firm.
A few Republican lawmakers have joined the chorus calling on Pruitt to resign. But most conservatives enthusiastically support the EPA administrator and view him as one of President Donald Trump's most effective cabinet members, citing his moves to roll a number of Obama administration environmental regulations.
Trump has defended his EPA head, tweeting last week that Pruitt was "doing a great job."
Popular in the Community