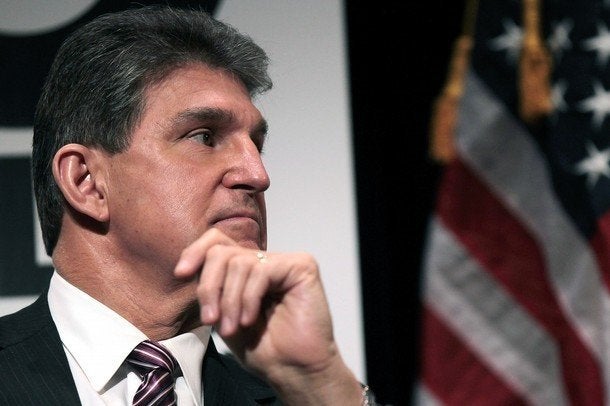 WASHINGTON -- One day before President Obama is set to announce the beginning of the troop drawdown in Afghanistan, a Democratic senator is coming out with one last push to urge the commander-in-chief to put forward a "significant" withdrawal -- a move that seems to have ruffled the feathers of Sen. John McCain (R-Ariz.)
On Tuesday, Sen. Joe Manchin (D-W.Va.), one of the most conservative Democrats in the chamber, sent Obama a letter urging a change of course in the war and an acceleration of the withdrawal of U.S. troops.
"After 10 years and $443 billion, I believe it is time [to] focus our resources on rebuilding America, not on rebuilding Afghanistan," he wrote. "It is time for the Afghan people to decide their destiny and take responsibility for governing themselves. ... It is my hope that by redefining the mission in Afghanistan away from nation-building, you will pursue significant troop reductions immediately and end the scope of our current mission well before the 2014 deadline."
President Obama is set to address the nation about the beginning of the drawdown in Afghanistan at 8 p.m. EDT on Wednesday.
Manchin took his concerns to the Senate floor on Tuesday. In response, McCain took a direct personal hit at Manchin, saying at best, he just didn't know what he was talking about.
"I view the senator from West Virginia's remarks as at least uninformed about history and strategy and the challenges we face from radical Islamic extremism, including al Qaeda," said McCain, who does not favor a substantial withdrawal from Afghanistan.
"I'm pleased that the senator from West Virginia went to Afghanistan once," he continued. "I would suggest that he consult with the people who know best."
Manchin has actually been to Afghanistan twice -- once as senator and once as governor of West Virginia.
In response to McCain, Manchin said: "I can only speak from a sense of common sense, and speaking to the people of West Virginia, and what they feel. We are a very hawkish state, as you know, and we are a very patriotic state. But if 10 years is not enough, how long is enough? And I think that's the question being asked. The sacrifices are being asked by then. When we can't build the water lines and sewer lines in West Virginia that are needed, fix the roads and repair the bridges, but yet they hear the billions that we are spending in a country that doesn't really want us there, I think it's time to leave. And respectfully sir, that might be the disagreement that we have."
A senior defense official told the Associated Press that President Obama is likely to announce the withdrawal of approximately 10,000 troops this year, "with one brigade of about 5,000 forces leaving this summer and a second brigade of similar size coming home by the end of the year."
Twenty-seven senators from both parties recently signed a letter urging the President to announce a "sizable and sustained reduction" of U.S. forces in Afghanistan. Manchin was not a signatory on the letter, although in his remarks on Tuesday, he said he now agreed with his colleagues.
Popular in the Community