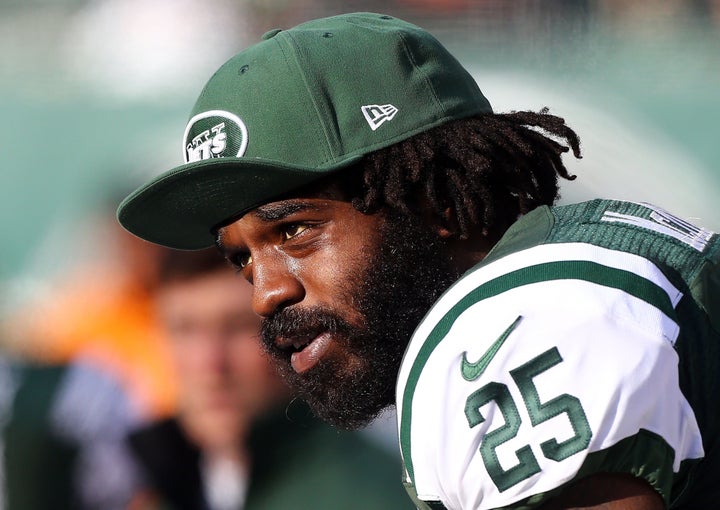 The man who police say shot and killed former New York Jets running back Joe McKnight last week has been arrested on manslaughter charges, the Jefferson Parish, Louisiana, sheriff's office confirmed during a bizarre and contentious Tuesday news conference.
Jail records obtained by multiple news outlets Tuesday morning, however, showed that Gasser had been arrested and booked on a single count of manslaughter.
Jefferson Parish Sheriff Newell Normand confirmed the charges at the news conference. But he then spent much of the appearance attempting ― at times angrily ― to justify the decision to release Gasser on Thursday, saying that the sheriff's office operated out of "an abundance of caution" and out of an "obligation to make sure we get it right."
At the time of Gasser's release, he said, investigators had only Gasser's statement, and had not yet spoken to key witnesses who could corroborate or contradict the accused shooter's account.
"Our arrest is only as good as a prosecution," Normand said. "We accomplish nothing if we make an arrest and we can't put ourselves in the best posture ... to reach a successful prosecution."
A manslaughter, rather than murder, charge "best fit the evidence that we have at this time," Normand said, adding that further evidence could lead to a change in the charges later in the investigation.
Members of the community strongly criticized the sheriff's department, particularly as it appeared to be yet another case in which a white suspect could be absolved in the killing of an African-American man.
But Normand lashed out at those who targeted the decision to release Gasser ― and at widespread angst with other recent police investigations.
"I'm disappointed in the conduct of the citizens not only of this parish but of this country," he said. "At some point we're going to have to start a conversation about the dialogue going on in this country."
"Shame on you," he later added. "It's not really anymore about this case. It's about all the other cases that have yet to come. We better reflect and look at ourselves in the mirror and decide what we're going to be about in our community. Are we going to continue to tear ourselves apart?"
Some TV networks cut away from the news conference as Normand then recited vulgar, expletive-filled comments he said members of his investigative team had received from people angry about the decision to release Gasser on Thursday.
Once he began taking questions more than 20 minutes into the news conference, Normand finally offered a description of how the incident transpired. There were "multiple interactions" between McKnight and Gasser as they drove "erratically" down a highway, Normand said, and the incident occurred after McKnight pulled aside Gasser's car at a traffic light.
The two "entered a verbal confrontation" while still in their cars, before McKnight left his vehicle, Normand said. Gasser then pulled his weapon and fired three shots that killed McKnight, he said. Gasser shot McKnight from within his own vehicle, according to Normand.
He said that, contrary to early accounts, there was no evidence that the killing was racially or politically motivated, but was instead the result of heated emotions caused by the extended dispute.
Gasser told investigators that he feared for his life when McKnight left the car, Normand said.
Then the news conference returned to Normand's criticism of those who have challenged his department and law enforcement nationwide.
"We, in this society today, are demanding immediate results, and we don't even know what we're talking about," Normand said when a reporter asked why he decided to read the explicit comments during the news conference. "We're castigating people that are trying to do the right thing."
Asked if he understood where some of the fear and concern about the shootings of young African-Americans originated, Normand asked, seemingly rhetorically, whether race mattered in this case.
He then cited black-on-black murder statistics in Jefferson Parish, and told the reporter the question was "misdirected," because it did not fit the evidence he had in this case. 
"I don't mean to be offensive," he said at the conclusion of the news conference. "We have unrealistic expectations for how these things work. ... These are not easy things."
Calling all HuffPost superfans!
Sign up for membership to become a founding member and help shape HuffPost's next chapter