We'd like you to meet Joe Mendi, the gentleman chimpanzee. He was quite the dashing fellow in the 1920s.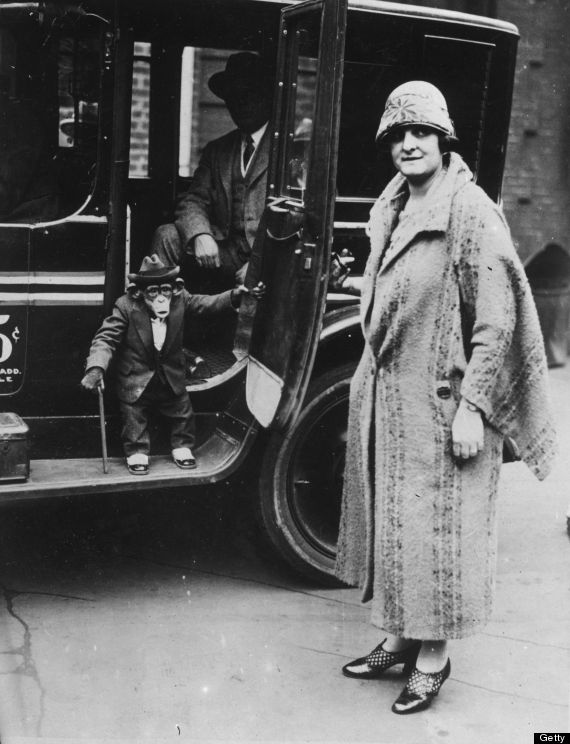 Joe Mendi, the gentleman chimpanzee, steps out of a taxi at Belle Vue Hospital in New York, where he is visiting invalid children Apr. 1, 1925. (Photo by Topical Press Agency / Getty Images)
Joe (also known as Jo) became a popular member of Broadway and the vaudeville circuit after he was purchased by circus-owner Lew Backenstoe, who's wife trained the chimp to perform human-like tricks. The trio set out on tour around the country, billed as "Joe Mendi, the eighteen-month old chimpanzee with the intelligence of a five year old child."
One of his most famous cameos came during his time in Dayton, Tennessee for the Scopes Monkey Trial in 1925. For the entirety of the media circus, Joe played a miniature piano, posed for photographs and even drank coke at the local soda counter.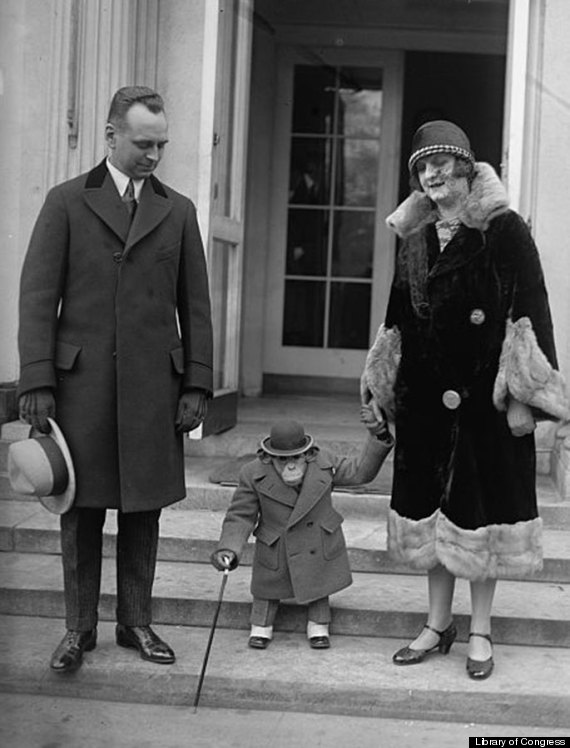 Roland Robbins, Joe Mendi & Gertrude Bauman at the Scopes Monkey Trial. 12/14/25. (Credit: Library of Congress)
Sadly, after nearly a decade in show business, he died on the road in 1930 after his owners failed to get him proper treatment. Another chimp, Joe Mendi II, took his place, and they continued to tour around the country until Backenstoe was arrested for larceny. The second Joe eventually made his way to the Detroit Zoo, where he lived out the remainder of his life as a much-loved entertainer until his death in 1934.
While the two Joes may have been a mainstay in the 20s and 30s, it's now widely accepted that chimps don't make for good pets. The Jane Goodall Institute warns that many chimps kept as pets can become aggressive and rebellious, and they're often given up to research laboratories after zoos refuse to take them. Most states also prohibit the ownership of primates.
Take a look at some photos from Joe II's life below.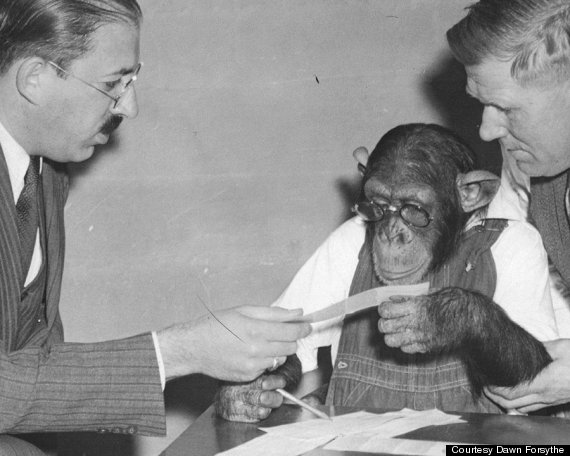 Detroit Zoo chimp Jo Mendi signs a check in the Community Fund Drive, with William Wachs (l) and trainer Theodore Schneider. November 4, 1932. (Photo courtesy Dawn Forsythe)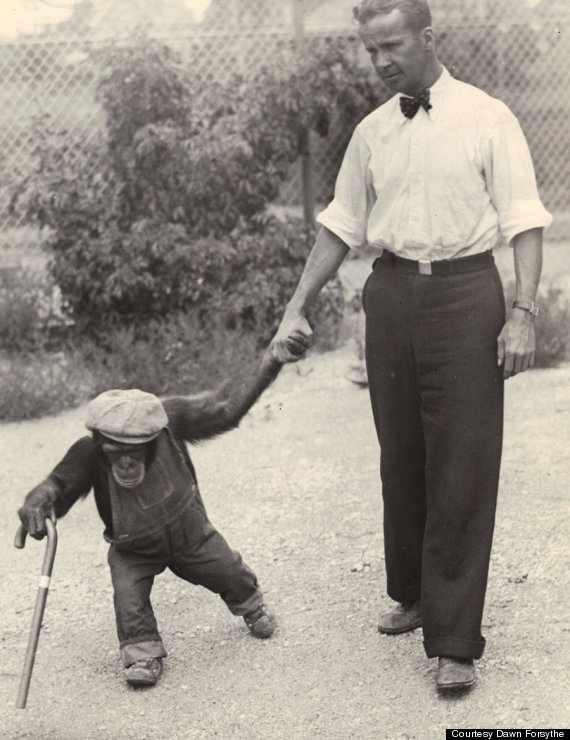 Detroit Zoo chimpanzee Jo Mendi with trainer Norman Kaufman, August 3, 1932. (Photo courtesy Dawn Forsythe)
Before You Go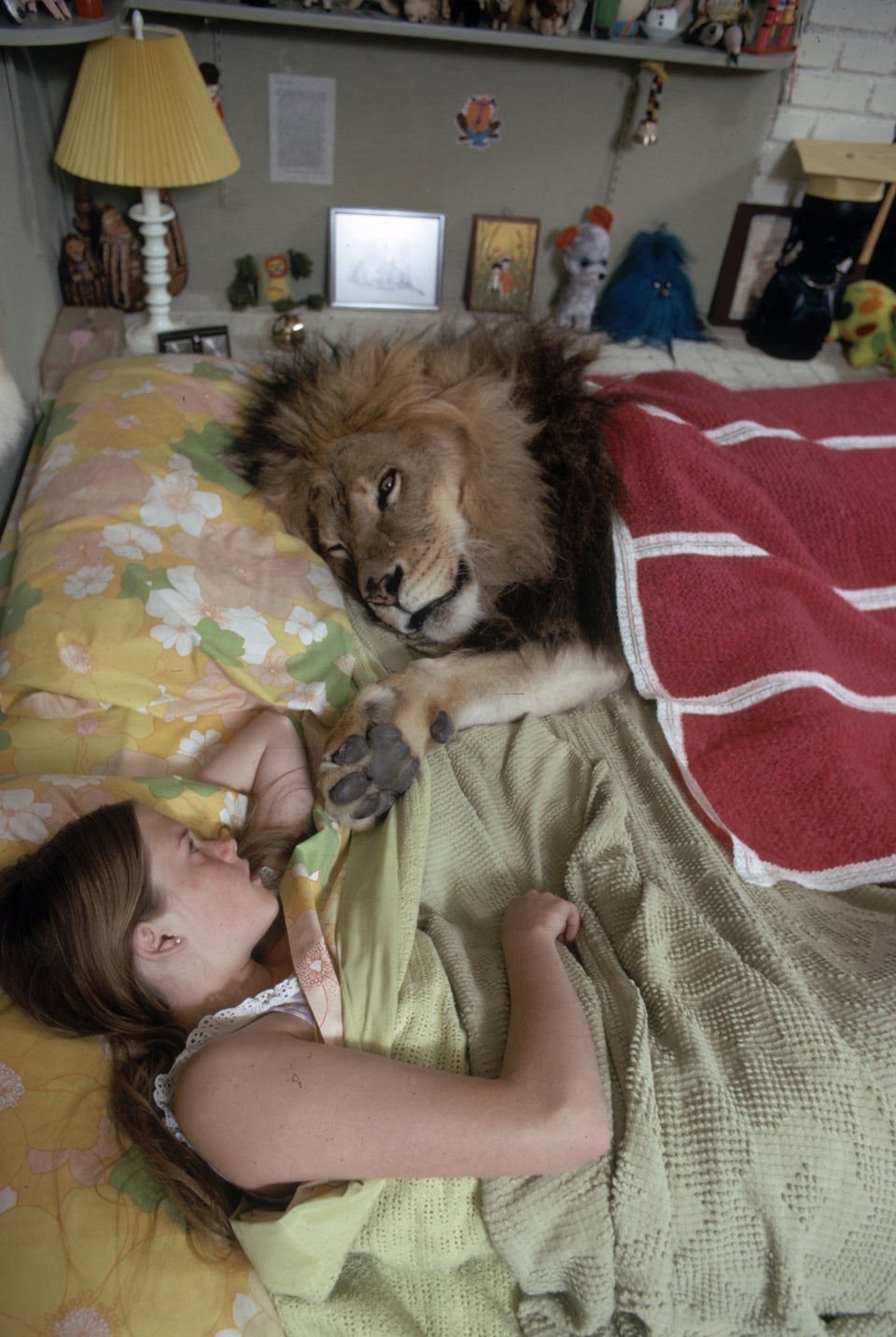 Wild Animals Who Are Part Of The Family
Popular in the Community