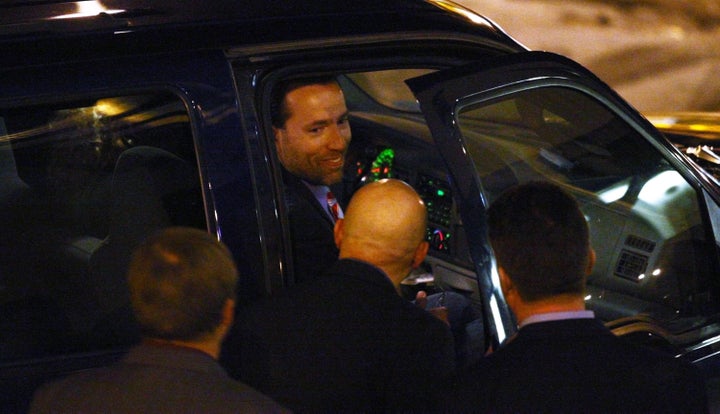 WASHINGTON -- Alaska Tea Party favorite Joe Miller wore a bulletproof vest the night he beat Sen. Lisa Murkowski (R-Alaska) to become the Republican Party's 2010 Senate nominee, his former private security guard told The Huffington Post.
"As we're finding out that he's winning, I'm in the bathroom putting a bulletproof vest on the guy," William Fulton said in one of several interviews this week. Describing Miller as "paranoid," Fulton said the underdog conservative was afraid he'd be targeted at election headquarters in Anchorage on that August night. "It was fucking ridiculous."
Less than two months after primary night, Fulton made headlines of his own when he handcuffed and detained Tony Hopfinger, editor of the Alaska Dispatch, alleging the newsman was trespassing at a public event. Fulton, owner of Drop Zone, a security company/military surplus store/fugitive recovery business, was soon dodging phone calls from reporters all over the country. But there was one person Fulton couldn't ignore: his FBI handler.
Fulton, as it turned out, was a federal informant at the same time he was providing security at events for the Miller campaign. Once members of an Alaska militia were arrested in a plot to kill law enforcement officials in March 2011, Fulton faded from view.
Now, with militia ringleader Schaeffer Cox sentenced on Tuesday to nearly 26 years behind bars, Fulton is speaking out publicly for the first time.
Fulton, formerly an active participant in the Alaska Citizens Militia who said "99.9 percent" of his business came from Republicans, now says he's fiscally conservative, but socially liberal. He said he thinks that "anybody should be allowed to marry anybody they want" and that abortion is an issue between a woman and her doctor. Global warming, he said, is real. He voted for President Barack Obama -- both times.
But he's still bitter about the drubbing he took from the media after he handcuffed a member of the fourth estate -- an arrest he still defends. "The left-wing completely attacked me, including Huffington Post, you bastards," Fulton said. "I was working for you, you sons of bitches, and nobody knew it."
Fulton's FBI handler was among those displeased he handcuffed a journalist.
"Really?" the agent said when Fulton described the incident, according to Fulton. "That was the response, 'Really?'"
Fulton said the editor arrest actually helped boost his cover. "I mean, we got complete props from the right wing," he said.
Under the media spotlight, Fulton shut down his security operation, but kept the military surplus store running as he got more involved in the Cox investigation. A few months later, in early February 2011, two of Cox's militia associates contacted Fulton about obtaining grenades as part of their plot against law enforcement. Cox later alleged in court that Fulton "kept pushing and pushing" him to develop a plan and "fanned the flames of government overthrow." But Fulton, who was first introduced to Cox in 2008 by Frank Bailey, a former top aide to Sarah Palin, said the militia member was determined to pull off his plot.
For Fulton, the bulletproof vest story demonstrates that Miller was "a paranoid guy with a bunch of guys with guns that like to hang out with him who almost became a senator." Miller, though he beat incumbent Murkowski in the GOP primary, lost the general election to Murkowski's write-in campaign, which he unsuccessfully challenged on the grounds that some voters misspelled Murkowski.
For University of Alaska political science professor Gerald McBeath, it's not unexpected that Miller would don body armor, given the state's gun culture.
"We always thought he was a wussy, but that sort of demonstrates it," joked McBeath. Still, McBeath said he wouldn't expect Miller, a West Point graduate and Bronze Star winner, to be greatly concerned about personal security at a campaign rally on primary night.
"News was out that he was likely to win that primary, so maybe that was a factor weighing into what he was wearing," McBeath told HuffPost. "But I'm thinking about attempted assassinations in Alaska politics and I'm drawing a blank. We don't have a lot. It's not Arizona. And while the gun culture is widely respected, we don't have a lot of people running around and shooting at other people in political gatherings."
Miller, now an online publisher, said he wasn't interested in responding to Fulton's stories. "We have responded to the Bill Fulton (and Shaffer Cox) stories many times in the past and have no further comment," spokesman Bill Peck told HuffPost in an email, asked specifically whether Miller wore a bulletproof vest the night of the primary.
As for Fulton, he's no longer in Alaska, but the Army veteran is still sussing out right-wing extremists. He said he continues to work with law enforcement, focusing on militias, sovereign citizens and right-wing extremism. No left-wing undercover work, though. "I've spent so many years working right-wing -- I know how they work what they do, I know the terminology. I tried left-wing once and it just didn't work out for me."
Fulton said he and his family took a major financial loss as the result of his involvement with the FBI investigation. "You will never get rich working for the feds," he said. "Unless, of course, you're already a scumbag."
He said he's looking for a gig in which he can leverage his knowledge of law enforcement. He's also working on a book.
"We're booming this year because of Obama and gun control, man," Fulton said. "If you look at the right wing, the growth in the militia organizations, the growth in the border organizations, the amount of firearms, the type of rhetoric that is now used, we have a major issue."
UPDATE: In a blog post on Miller's website that originally read "by Joe Miller," the author writes the former 2010 Senate candidate wore the bulletproof vest at Fulton's urging. "What Fulton leaves out is that he followed Miller around at convention central, warning him of threats against him and insisted that Miller put on Fulton's personal vest," he writes.
Before You Go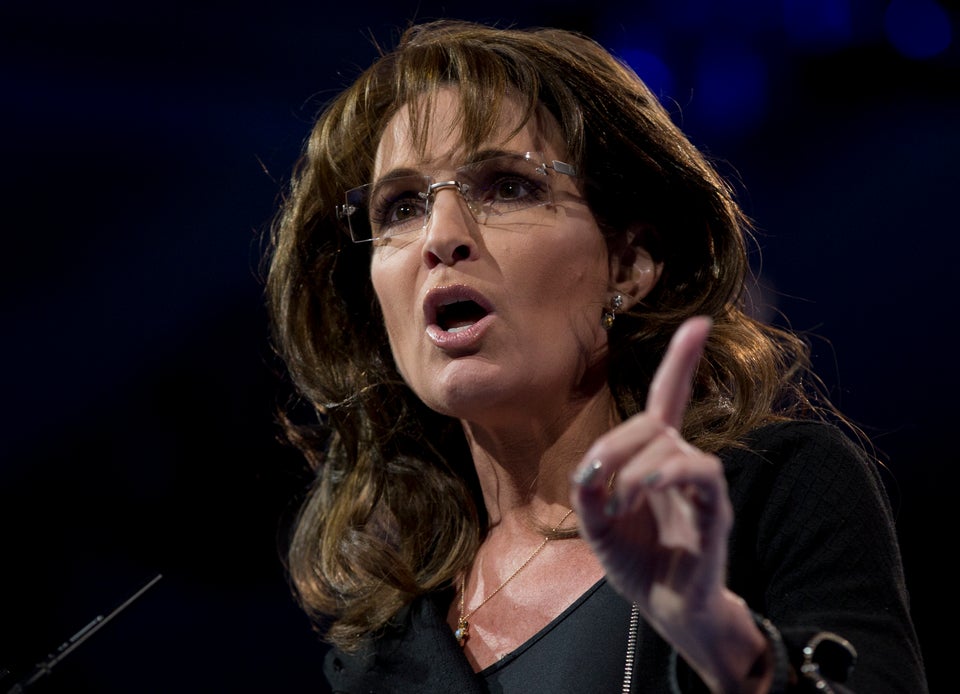 Top Palinisms
Popular in the Community