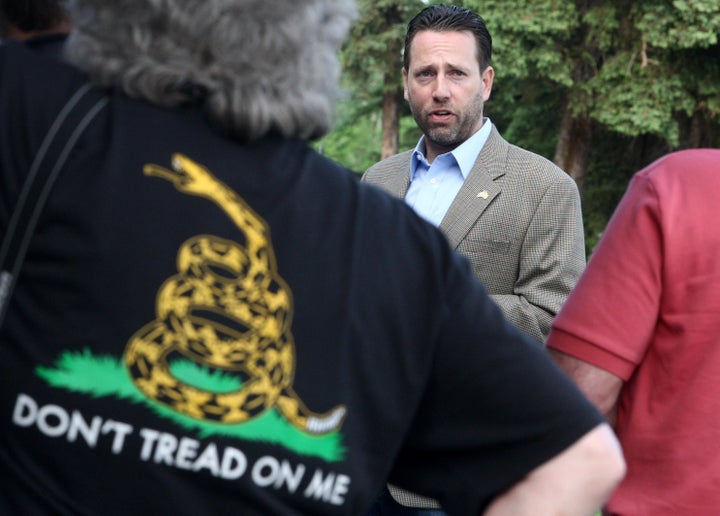 WASHINGTON -- Alaska Tea Party favorite Joe Miller isn't saying the FBI planted a mole to bring down his 2010 Senate campaign. He just thinks they need to answer some questions.
"This is the second U.S. Senate race in Alaska that the FBI has had some involvement in," Miller told the L.A. Times. "I'm certainly not expressing any type of conspiracy theory about the FBI causing any kind of trouble to my campaign, but it's conceptually troubling to me that you have a paid informant working on multiple campaigns answering to the FBI, being debriefed by the FBI, and I really think it's incumbent on that agency to come clean about the scope of this individual's employment and the level of involvement the FBI had in that."
As the Alaska Dispatch points out, Miller had a different position in August 2011 when he was still defending Fulton. "I want to make it explicitly clear that I do not believe that Bill Fulton acted with the intent to harm our campaign during the Anchorage town hall meeting this past October," Miller said at the time. "In other words, I do not buy into any type of federal conspiracy against the Joe Miller for U.S. Senate Campaign."
"Whatever he did on that part with Joe Miller was not anywhere in our purview that we were interested in," she said. Klien told the paper in an email that the FBI "had absolutely no role in Fulton's business dealings or his relationships with his clients" and "gave Fulton no directions as to how he should conduct his business or clients."
Former right-wing radio host Eddie Burke, who ran an unsuccessful campaign for lieutenant governor in 2010 with Fulton as his campaign manager, was also floored by revelation that Fulton voted for President Barack Obama. He told the L.A. Times he "almost fell out of [his] chair" when he learned the news. "I never would have expected Bill Fulton to vote for a liberal, and I think I know Bill pretty damn well," he said.
As for Tony Hopfinger, the journalist handcuffed by Fulton, he questioned whether the FBI should be dealing with "cowboys like Bill Fulton" who can change the outcome of political elections. "I don't like the idea, either, of the FBI having a paid informant working inside a political campaign when the candidate himself is not the primary target of an investigation," he wrote in a Facebook post. "Why would anybody run for office under those circumstances? Joe Miller should be more upset with the FBI/Justice Department than with Fulton."
Calling all HuffPost superfans!
Sign up for membership to become a founding member and help shape HuffPost's next chapter
BEFORE YOU GO
PHOTO GALLERY
Tea Party Statements