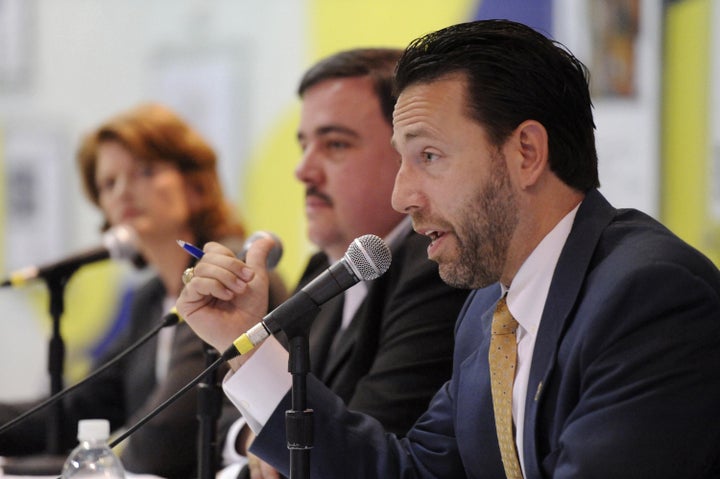 Alaska Republican Senate candidate Joe Miller was almost dismissed from his job as a Fairbanks borough attorney in 2008, after breaching the township's ethics policies by engaging in a politically motivated operation to unseat the Alaska GOP Chairman, former Fairbanks mayor Jim Whitaker said Wednesday.
Whitaker, who served as mayor from 2003 to 2009, told the Fairbanks Daily News-Miner that Miller had undertaken a campaign to oust Alaska GOP Chairman Randy Ruedrich using borough computers, a fireable offense, but that he wasn't terminated because he was needed for the work he was doing on a lawsuit to decide the tax-rate of a trans-Alaska pipeline system.
"I also felt it was appropriate to give Mr. Miller enough time to come forward himself," Whitaker told the Fairbanks Daily News-Miner. "It's clear with his statements of the other day, he's not going to do that. Referring to the truth as innuendo and lies is not truthful."
Earlier this week, Miller told reporters that he was done answering questions about his personal life and history.
"We've drawn a line in the sand," he said. "You can ask me about background, you can ask me about personal issues, I'm not going to answer them. I'm not. This is about the issues. ... This is about moving this state forward, and that's our commitment."
True to form, Randy DeSoto, spokesman for the Miller campaign, remained mum on the specific allegations, telling the News-Miner:
"We're not going to comment further on this, but the campaign released records this past July conclusively demonstrating that Joe was not fired, but resigned, on his own accord, in September of 2009."
According to the News-Miner's reports:

The former mayor said it is his understanding that Miller used multiple borough computers to engage in "proxy voting" in an attempt to unseat Alaska Republican Party Chairman Randy Ruedrich, who has held the position since 2000.
"It is my understanding that Mr. Miller admitted in writing to the breach," Whitaker told the News-Miner. "It is my understanding that document is in his file."
Vital parts of those files, however, remain confidential.
Calling all HuffPost superfans!
Sign up for membership to become a founding member and help shape HuffPost's next chapter