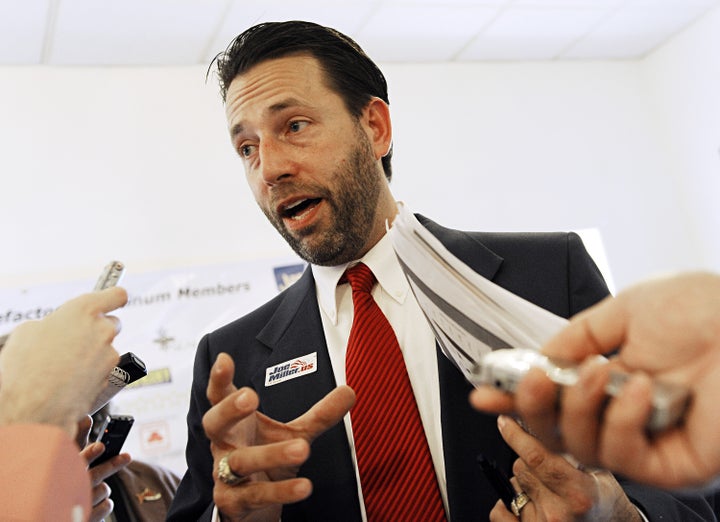 Employees in the U.S. should not be provided a federal guarantee of minimum wage, Alaska Senate candidate Joe Miller said recently. The states, instead, should be left to determine the minimum rate that an employer can provide their workers, he argued.
"That is not within the scope of the powers that are given to the federal government," the Tea Party-backed GOP insurgent argued in a recent ABC News interview. "That is clearly up to the states."
Miller went on to clarify that "the state of Alaska has a minimum wage which is higher than the federal level because our state leaders have made that determination. The minimum level again should be the state's decision."
Such a policy stance is not extraordinary compared to Miller's other anti-government views. But it is the most clear cut he has been on the issue of minimum wage.
Miller captured victory over Republican Sen. Lisa Murkowski in a party primary on a platform of slashing the federal government. Social Security, hate crimes laws, the Department of Education and even unemployment insurance should all be put on the constitutional chopping block, Miller believes.
In an interview with Fox News in September, Miller explained federal provisions of safety nets to the nation's unemployed as an "entitlement mentality" that breaches the Constitution.
And shortly after his primary victory, Miller said that Social Security should be phased out in order "to transfer the power back to the states so that states can take up the mantle of those programs if they so desire."
He recently characterized his opposition to the federal minimum wage and his continued disapproval of federal unemployment benefits in much the same way:
"What I'd recommend that you do is go to the Constitution and look at the enumerated powers because what we have is something that we call the 10th amendment that says, look if it's not there if it's not enumerated, then it's delegated to the states," Miller said. "Everything that's not there is reserved to the states and the people."
Miller is facing Democratic candidate Scott McAdams and a write-in challenge from Republican Sen. Lisa Murkowski in November. He currently holds a slight lead in certain polls, though surveying the true prowess of the Murkowski campaign, which will rely on voters to write in her name, has proven a complex task.
WATCH Miller calls minimum wage unconstitutional
:
Popular in the Community