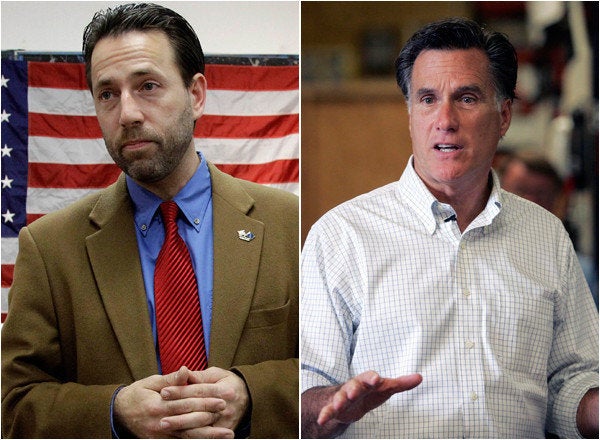 WASHINGTON –- A Tea Party group in Nevada led by a failed Senate candidate from Alaska announced Thursday that it is launching an effort to oppose Mitt Romney's bid for the GOP presidential nomination.
The announcement of a "Stop Romney" campaign is something of a publicity stunt by the Western Representation PAC, coming as it did just hours before the former Massachusetts governor officially announced his intention to run for the White House. It is a way for both Joe Miller, the Tea Party group's leader who lost his Senate bid to the incumbent he beat in the GOP primary, to raise his profile and for the political action committee to raise money.
But the move is nonetheless noteworthy because it follows the news, first reported last week by The Huffington Post, that influential national Tea Party group FreedomWorks is focusing much of its energy on stopping Romney from winning the Republican nomination.
"Conservatives deserve a better choice than Mitt Romney," Miller said in a statement sent out by Western Representation PAC.
"In a matchup against Obama, Tea Party voters are looking for a consistent constitutional conservative," Miller said. "We will never get behind Mitt Romney. On issues like gun rights, gay rights, abortion, immigration, and health care, Romney has flipped more than John Kerry flopped."
Miller's criticism came as fellow Alaskan Sarah Palin -- who supported Miller and campaigned for him -- also unloaded on Romney, saying the he will face "a big challenge" in appealing to Tea Party voters.
Palin, during a bus stop tour in Boston just before heading to New Hampshire, criticized Romney's health care law and dismissed the argument the former Massachusetts governor has used to defend it.
"[Romney] makes a good argument there that states' rights and authority and responsibility allowed in our states makes more sense than big centralized government telling us what to do," Palin said, according to Politico. "However, even on a state level and a local level, mandates coming from a governing body -- it's tough for a lot of us independent Americans to accept because we have great faith in the private sector and our own families, and our own businessmen and -- women making decision for ourselves, not any level of government telling us what to do."
The most significant complaint most conservatives have with Romney is that in 2006, he presided over the passage of a state health care law that mandated individuals buy insurance and expanded the government's role in the industry.
Romney has said that, while the law is not perfect, he stands behind what he tried to accomplish. The ex-governor has said it is different than the law passed by Congress at Obama's urging. The federal government cannot force states to adopt a health care model, Romney says, because it violates state sovereignty. This argument has yet to catch on with many conservatives, as evidenced by Palin's comments.
Miller joined Western PAC in March, taking the helm of an organization that was founded during the 2010 election cycle and which raised just over $400,000 during that time.
Miller won the Republican primary in the Alaska Senate race with support from Tea Party groups like the Western PAC and the Tea Party Express. But Sen. Lisa Murkowski, who lost to Miller in the GOP primary, ran as a write-in candidate and defeated him in the general election.
Western PAC has purchased StopRomney.org, but right now that URL directs to a Facebook group by the same name. The group said it will announce further steps in a grassroots, online-based campaign over the next few weeks.
Bryan Shroyer, the executive director of Western PAC, said the group is not making any endorsement of any other GOP candidate in the primary. But they want to stop Romney because he would fail to energize the base and would lose in a general election matchup with President Barack Obama, he said.
"We just know that if Mitt Romney wins the nomination, we'll be looking at a repeat of Bob Dole's feckless 1996 campaign and a landslide defeat," Shroyer said.

Calling all HuffPost superfans!
Sign up for membership to become a founding member and help shape HuffPost's next chapter