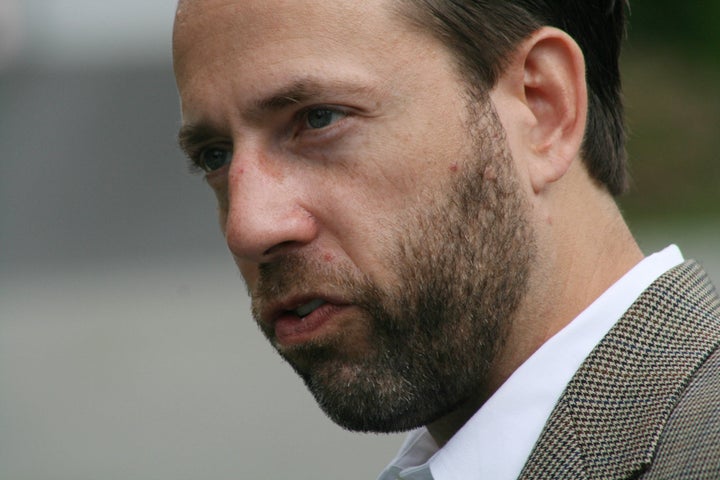 Security guards for Alaska senate candidate Joe Miller handcuffed and detained the editor of the online magazine "Alaska Dispatch" on Sunday while he tried to interview the Republican nominee, according to multiple reports.
The Anchorage Daily News reports that Tony Hopfinger, who founded and edits "Alaska Dispatch," was arrested by Miller's private guards at an Anchorage school. The senate hopeful was on hand as part of a town hall event.
The firm that handles Miller's security says that Hopfinger shoved a man, but Hopfinger claims that he only pushed back at a guard after the guard began pushing him.
According to an article at the website for "Alaska Dispatch," Hopfinger was warned that he would be charged with trespassing if he did not cease asking questions and leave the premises:
Hopfinger had been trying to ask Miller questions when two or three guards told him to leave or risk being charged with trespassing.

When Hopfinger continued to try to ask questions, one of the guards put the reporter in an arm-bar and then handcuffed him.

Hopfinger was released after police arrived.

The reporter was on public property where a public event was being held at the time of the incident.
"The Dispatch reporter repeatedly pushed a camera into the face of Mr. Miller. He continued to aggressively pursue him. I told the reporter several times that he needed to stop and that he was trespassing, he ignored me. He then proceeded to stalk Mr. Miller and even shoved an individual into a locker. Based upon this trespass and his assault, we detained him and escorted him from the premises."
The incident occurs one week after Miller, a Tea Party favorite who stunned incumbent Sen. Lisa Murkowski in the state's Republican Primary in August, abruptly announced that he would no longer answer questions from the press. "We've drawn a line in the sand. You can ask me about background, you can ask me about personal issues, I'm not going to answer them. I'm not," he said at the time.
Popular in the Community