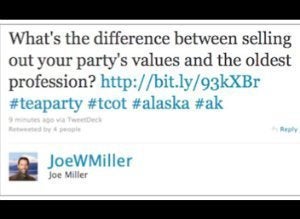 Tea Party-backed contender Joe Miller, who currently holds a super-slim lead over Sen. Lisa Murkowski in Alaska's GOP Senate primary, apologized on Friday for a message sent from his twitter account comparing his Republican rival to a prostitute.
Miller blamed the offense tweet on a staffer.
This is the message originally posted on Miller's twitter account: "What's the difference between selling out your party's values and the oldest profession? http://bit.ly/93kXBr #teaparty #tcot #alaska #ak."
Clicking on the hyperlink included in the tweet takes followers to a story from the Daily Caller on the prospect of Murkowski exploring a third-party bid as a Libertarian candidate should she ultimately be defeated in Alaska's competitive and bitter GOP Senate primary race.
In an interview with the Daily Caller, Scott Kohlhaas, who chairs the Alaska state Libertarian Party, didn't rule out the possibility that Murkowski could pull a party-switch to keep her re-election campaign alive.
The Swing State Project captured a screenshot of the now-deleted tweet comparing Murkowski to a prostitute: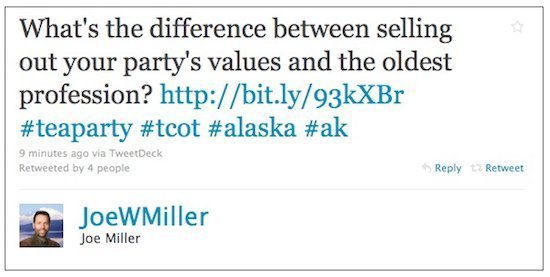 Hours after the tweet appeared, Miller sent a follow-up message on the social media site apologizing for the criticism. "Please accept my apologies. Staffer trying to encourage Libertarians not to sell out," he wrote.
But, Justin Elliott at Salon points to evidence that seems to suggest the Senate hopeful has, at least in the past, been responsible for penning his own tweets: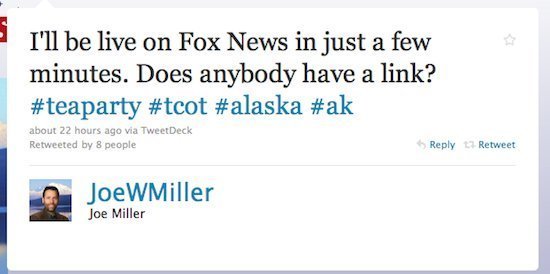 Popular in the Community