It's a little after 10 a.m at the brand new Joe Fresh boutique at 110 Fifth Avenue. Somewhere between racks of orange neoprene coats, gold dusted jeans, and a rainbow of lip colors -- Joe Mimran, creative director for the brand, holds court.
With a sleek suit, a slick hair cut and a subtle fragrance, he charms editors, bloggers, and stylists alike. I found my place at the end of this long line of well wishers who approached him minutes after an entertaining Q&A with Elle magazine's Joe Zee, and hours before the Fifth Avenue Flagship opened to the public.
When my turn came I understood his allure: Mimran, who launched Club Monaco, seamlessly spins from small talk to tackling major questions about his namesake store. Even more, he does it all with a cool and confident smile which hints that he knows all too well that this store, already popular in Canada, is poised to change the face of fast fashion in America.
Since launching in 2006, the brand has quickly gained traction in Canada with an array of simple and signature pieces in the contemporary, sportswear, intimates and beauty categories. What makes the collection that much more eye catching are prices which go as low as $4 for nail polish and generally tap out at $99 for statement items, like the fall neoprene collection.
This fall, the retailer is taking a gamble that American shoppers will love Joe Fresh as much as their northern counterparts do. The Flatiron boutique is just one of six Joe Fresh locations currently open or opening, with a Fifth Avenue Flagship scheduled to debut in Spring 2012.
But will New Yorkers, who have an overflow of fast fashion to pick from, buy what Joe is selling? We asked the man himself, who responded to this as well as questions about price points, his target customer and the five must-haves every woman should buy from the stores new Fifth Avenue Location.
Zandile Blay: One thing I noticed is that all the prices end in nine. So there's a lot of $19, $29 and $69 priced items. Is there a rhyme or reason to it?
Joe Mimran: Well, I think $19 is better than $20 and $29 is better than $30 -- so that's why a lot of our prices are like that. One thing we don't do though, we don't play the cent game. So if you notice, nothing here is $19.99 or $29.99. You can't buy love for a penny is what I say, so that's why we go with even prices.
ZB: At this point a lot of women in this city are used to high fashion low prices, so how exactly do you expect shoppers to react?
JM: That's true. But I think there's always room in the market place for a good player with integrity. The fashion industry allows newcomers. This is not an exclusionary industry.I think if you get beat it's not because of the competition it's because you are not good enough. Women do love to shop around and they like to have a hand full of brands that they like to frequent. It's not about one single brand. This is not the computer business, it's the fashion game. There isn't one department store, there isn't one specialty store. And what we've shown, especially in Canada, is we can play with international competition. So why can't we do it here? When I came into the market in 1995, it was the same question. 'Does the world really need another fashion brand?' But I think if we do it in the right way, the world will accept us.
ZB How do you think competitors in this space are going to react?
JM: I think you do look at the competition and you certainly don't want to be outflanked by the competition. I think really good competitors are always measuring themselves against competitors. But my view is you need to know who you are, you need to be sure of who you are and you need to have a point of differentiation. Once you have that, you don't need to worry about the competition.
ZB: So what are must-have items in this store you think every woman should have?
JM: We have so many must-have items, that's the great thing about us. We have our must-have turtle neck of the season. We have our neoprene jackets, which no one else in the market has. We have our gold jeans. We have the fringed skirt. There's also our silk blouse. Some of the sweaters and chunky knits. There's really a whole host of things that our readers will love.
ZB: Who would you say is the Joe Fresh Woman? Who is the target customer?
JM: I love to say that our reader is a discerning customer. One who is not victimized by fashion. She has a sense of style which is her own and knows how to use our clothes to bring that out.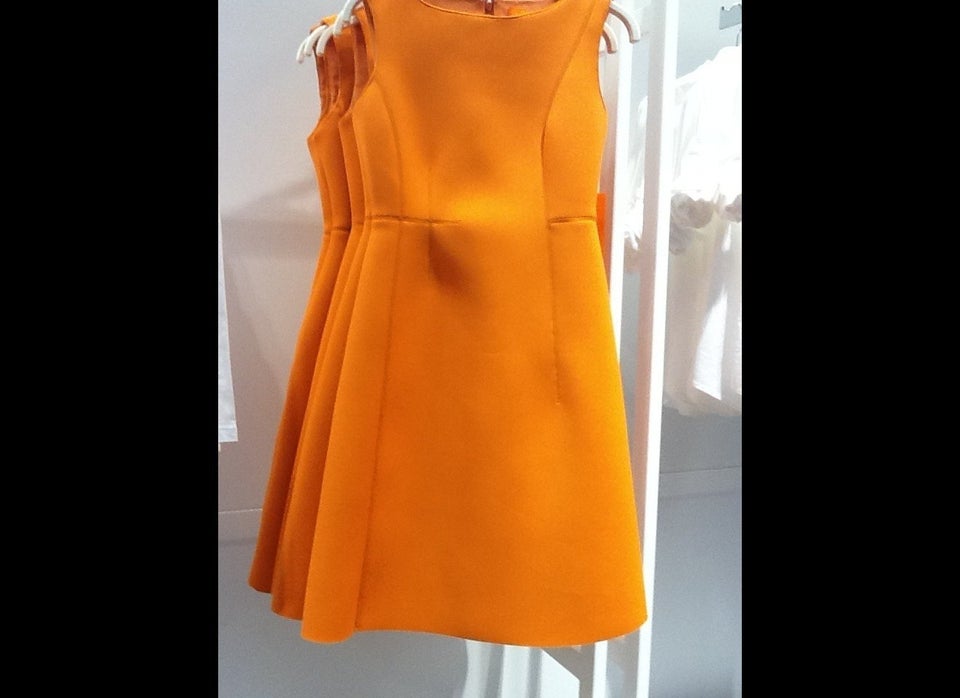 Joe Mimran's Top Picks from Joe Fresh