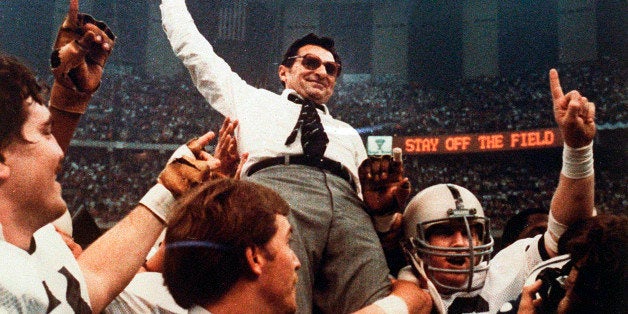 Among the 12 names on this year's list of inductees into the Pennsylvania Sports Hall of Fame is one that, for a time, was getting frantically scrubbed from every trophy, award and history book in college football: Joe Paterno.
For the Paterno family, the Tuesday announcement was both an honor and also a sign that Paterno's legacy won't be boiled down to the final tumultuous months of it.
"Obviously everybody is honored," Joe Paterno's son, Jay, told The Huffington Post by phone Tuesday. "Our feelings are very much like my father's would be if he were alive: This is a reflection on a lot of great student athletes who played the game hard. It really is something that reflects on a lot of people -- He was never about individual honors. But he would taken it as something that was good for Penn State — something that reflects the way the program was run."
Paterno's storied, 62-year career coaching Penn State's Nittany Lions included a record 409 victories and two national championships. He was inducted into the College Football Hall of Fame in 2006, while he was still coaching Penn State.
But he was ousted in disgrace after his longtime assistant coach, Jerry Sandusky, was found to have sexually abused at least eight young boys. Penn State leaders, including Paterno, were accused of failing to protect the children from Sandusky and then covering up the crimes.
"His role in this is really the guy who had reported the crime," Jay Paterno points out.
"I think what happened — thoughtful people who have paid attention — are looking and saying 'Wait a minute. There was a rush to judgement. There was an inaccurate rush to judgement,'" Jay Paterno told HuffPost. "Joe Paterno was a guy who reported an allegation that was brought to him and that was the extent of his involvement. He followed the law. He did more than the law even required."
Paterno, 85, was affectionally known as "JoPa," and had been practically deified among Penn State students and alumni. He died from lung cancer complications two months after he was fired in 2011. Paterno had agreed to step down after the close of the 2011 season, but was forced out before the final three games.
In the time between his firing and death, Paterno had 112 wins stripped from his record as part of the sanctions against Penn State for the Sandusky scandal. Paterno's name was removed from the Big Ten championship trophy and references to him were wiped from sports awards and conferences named in his honor.
"I'll be the first to tell you he wasn't perfect — but this was a guy whose first inclination was always to do the right thing," Jay Paterno said of his father.
When people asked his father which Penn State team was his favorite, Jay Paterno said his father would respond, "Well, you have to see what kind people we turn out and what they do for society."
"[To him,] football was part of life, not life itself," Jay Paterno said.
"I have no doubt that at the right time, as some of the legal issues have been sorted through, Penn State will honor not only Joe Paterno's legacy, but the Paterno family's legacy," Penn State athletic director Sandy Barbour said last month.
Three years ago, questions lingered as to what Paterno's legacy would ultimately be. Jay Paterno feels strongly that it's his father's life of service that will endure.
"This is a guy who lived his life, especially his professional life, educating young people and giving back to the community, on and off the field," Paterno said of his father. "That's what I hope is the great legacy."
This article has been updated with comments from Jay Paterno.
Related
Popular in the Community