A general maxim emerges when chatting with Joe Piscopo about the curvatures and swivels of his life.
"I totally dig the journey," said Piscopo. "Totally dig the journey."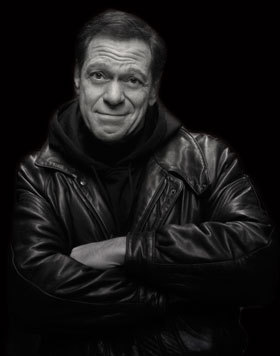 And what a ride it has been for the famous New Jersey native, age 63. From satirist to commercial kingpin to, most recently, radio talk show host, Piscopo has cracked the code on how to formulate all things re-inventive.
Joseph Charles John "Joe" Piscopo entered the world via Passaic in June 1951 and by the time he got to West Essex High School in North Caldwell, he already was best known for his dramatic slant -- mostly for his goofing around and exaggerated parodies. As any Italian-American kid who is worth his weight in a gold chain knows, ribbing and over-the-top bantering are more applicable in day-to-day life than mathematics or chemistry.
"As a kid, I used to imitate all of the neighbors," said Piscopo. "I used to crack up the kids in the old New Jersey neighborhood with impressions. It all started there."
Joe's father -- also named Joe -- was a proud Italian-American, a World War II veteran, and a lawyer who committed his professional life to representing the working class, mainly recent legal immigrants.
"My father went to law school in the 1930s and he couldn't speak English," said Piscopo. "They would make fun of him. But he was smart and he skipped two grades. He represented honest, blue-collar laborers, and he had a working class mentality. He represented guys hurt on the job, and a lot of what he did is still ingrained in me. He never tried to change the country to his way. He assimilated."
One of Joe's grandfathers was a hat maker who had to defend himself against the extortion and intimidation of other ethnic groups. His uncle Ben was a chemical engineer, who worked with Enrico Fermi to develop the atomic bomb.
"Many Italians changed their names because they didn't want Italians," said Piscopo. "That leaves me with a soft spot for people who are struggling."
Edith Piscopo would have liked her son to become an upstanding lawyer like her husband and Joe's dad, but that was not to be. Italian-born, Edith came from a family of 10, and after she came to America, she and her husband also had 10 children.
Piscopo eluded the draft in the late '60s, first as a college student (he was a broadcast management major) and then with a high draft-lottery number. It was while attending college in Jacksonville, Fla., that Piscopo decided to become a performer. By the 1970s, he was doing stand-up.
"When I first started, I was an entertainer, not a comic. In the late 1970s, my choice was either to go to law school or do improv comedy on Sunday night. George Carlin, Rodney Dangerfield, Joan Rivers -- the places were full of rock stars and icons. Back then, the hottest place you could be was at a comedy club.
"When you were ready to go on stage, you would drive down 9th Avenue, and there would be at least 200 people in line. One time, I just kept driving. But the next weekend, I went back. I got there at noon for an 8:30 p.m. show, and then we would jockey for our numbers. It was one funny guy after another. If you follow someone like Rodney, it was tough."
In 1980, he was invited to join the cast of Saturday Night Live.

SNL at 40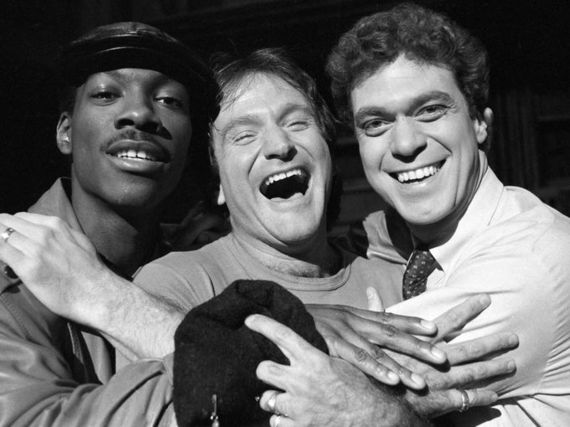 (Robin Williams, center, takes time out from rehearsal at NBC's Saturday Night Live with cast members Eddie Murphy, left, and Joe Piscopo, Feb. 10, 1984.)
Season 40 of Saturday Night Live kicked off last weekend with much the same assessment as previous seasons: talent that needs sharpening, imbalanced spoofs and a mixture of reviews.
The show debuted in 1975, with an opening segment starring John Belushi. Five years later, it underwent a major overhaul -- a complete cast replacement, in fact -- without producer Lorne Michaels. Original cast members John Belushi, Dan Aykroyd, Jane Curtin, and Gilda Radner exited.
New producer Jean Doumanian assembled a fresh ensemble that included Piscopo and Eddie Murphy, the Brooklyn-born son of a transit police officer and amateur comedian. Doumanian flopped and most of the cast was dropped and forgotten: Tony Rosato, Mitchell Kriegman, Yvonne Hudson, Charles Rocket and Patrick Weathers.
Piscopo and Murphy survived the slump and Piscopo earned laughs for his dead-on lampoon of Frank Sinatra and other personalities ranging from Abraham Lincoln to Leonard Nimoy to Barbra Streisand.
In his four years there, Piscopo served up memorable impressions of Dan Rather, Andy Rooney and Jimmy Carter, and drolly captured the mannerisms of talk show host Larry King and late-night comic David Letterman.
"SNL was laborious," said Piscopo. "To get it right (the impersonations), I studied video after video, with prosthetic makeup. The older I get, the less makeup I need. Dan Aykroyd went with no makeup -- it was all from the soul. Eddie Murphy was a brilliant, cutting-edge comic. He could imitate me doing Frank Sinatra -- that's how brilliant he was."
Piscopo stayed with SNL until 1984.
Piscopo developed thyroid cancer during his successful SNL run. Doctors told Piscopo he had to take better care of himself. He was drinking too much -- getting slammed after the show. He was eating poorly and told that his diet could've been a contributing factor.
"I had a tumor in my throat, but I went on and did the show," said Piscopo. "In that show, Eddie Murphy played Muhammad Ali, and I played "The Sports Guy." Well, the next morning, they cut out half of my thyroid, and I was told it was okay and benign. Two weeks later, I was sent for a second opinion. They took the tumor and sent it to New York University, where they found carcinoma. They couldn't guarantee that the radiation wouldn't kill me, so I refused. I thought I had five years, if I was lucky. "
Although it was caught in time and successfully treated, his encounter with cancer inspired Piscopo to choose a different course.
"My whole outlook changed," said Piscopo. "I chose the life route over the career route. I went and lived my life -- Joey was three, four years old. I didn't concentrate on my career. When someone tells you that you have something in your body that can kill it, it changes you in a good way. At that point, I could've stayed and played the Hollywood game, or take a different approach to life."
Pushed by a sense of fragility, Piscopo took it to the limit. He hit the gym solid, and turned his average frame into a power physique.
"I started working out and then, of course, the cover of Muscle and Fitness magazine. I do the cover and I look like a monster man, and every joke was warranted. There was a joke about illegal use of steroids from David Letterman. I didn't think that 20 million people were buying Muscle and Fitness magazine. Who knew? Big mistake."
Keep Striving Like Frank Sinatra: "He Didn't Stop"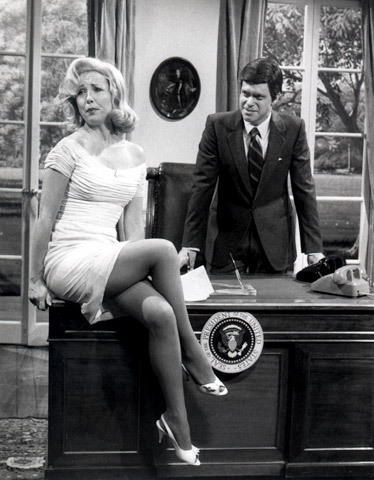 At 63, the artist in Piscopo understands that his art is not complete. His confidence is intact; external forces -- gossip, nit-picking, punch lines about his muscles or starring roles in dated flicks opposite Treat Williams -- can do little to him. He performs at selective events; he keeps his charities close to heart. He has owned up to his portion of private foibles, conceding that, "Running off with the babysitter is never a good idea. I love kids. It's just that the women don't want to stick around."
And Piscopo has taken a serious partiality to his latest career as an on-air personality at AM 970 The Answer in New York City, where he could be heard every weekday morning, from 6 to 9 a.m. "Piscopo in the Morning" launched at the start of 2014.
"I've always tried to hang in," said Piscopo. "At this point in my life, I've got a credibility factor with the radio show. People know that I know the issues. I'm grateful for the ride. My inspiration is Sinatra, who was my father's hero. He was completely written off in the 1950s, they said he was washed up, he was in the mob, a splash in the pan, they wrote things as racist and derogatory and humiliating as there could be. But he didn't stop. He came back stronger and stronger."
Political Disillusionment
In 2004, Piscopo flirted with the idea of running for Governor of New Jersey. In a recent op-ed piece in the Washington Times, Piscopo accused President Barack Obama of checking out, and wrote, "In good conscience, however, I can't continue to call myself a Democrat."
"I'm a disillusioned Democrat," said Piscopo. "I really am. It's a whole re-invention for me, but with all of the insanity and the implosion right now, it makes sense. I'm a JFK democrat, who feels strongly on civil rights and defense. But everybody is disillusioned right now, because there is no direction. I believe that the day of the independent is truly here."
Most disheartening, said Piscopo, is the Democrats' "weak commitment to a strong defense" and "maintaining America's place in the world" as the only superpower. He said that he finds himself "rooting for the Republicans in the midterm elections for the first time" he can recall.
Piscopo said that he doesn't pretend to be a political expert, but a regular Joe, an ordinary talker and listener, the guy next-door who says stuff you need to hear and wants to shake a little common sense into your brain.
"Let's send in a tactical strike force to deal with terrorists," said Piscopo. "That's common sense. You don't announce everything and get the word out. You send in two Italian guys from New Jersey, guys from the old neighborhood, who will take care of it covertly in a couple of days. But seriously, you do it all under the radar, like you did years ago."
He has a soft spot for the immigrants who wholeheartedly buy into the American Dream - and little or no patience for those who rebuke assimilation.
"I do believe that our strength and foundation is the ethnicity of the US," said Piscopo. "I'm in awe of our relatives who came over and learned the laws and the language. There was no Italian spoken outside of the house. I feel that the tenor of that belief has seemed to have weakened over the years. They carried the beauty and belief of the US and they embraced this great country. It wasn't like these religious extremists. With the Jews, the Italians, the Latinos, it was not in their makeup. But that seems to be something that no one wants to focus on."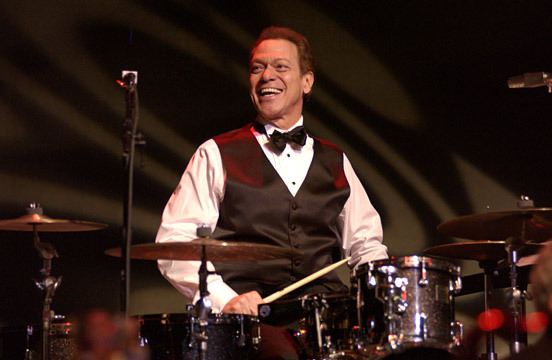 Transitions. It's all that life is really about. And it's a fool's errand to try to predict what life will be about tomorrow or what passage lurks in the shadows.
Joe Piscopo has ridden out a multitude of transitions and he is shifting to a new script politically. He could tank, or he could gain traction in unexpected ways. Either way, he is still on his own and loving the stage.
"Like I said, I totally dig the journey of my life. Right now, I get up at three in the morning, and I'm on the radio from six to nine. I can't stop moving or working."
Photos Courtesy JoePiscopo.com.
Brian D'Ambrosio's latest book, the positively acclaimed Life in the Trenches, offers 37 narratives and stories of modern day trench warriors -- including Stephen King's favorite folksinger (James McMurtry); a Bronx-born comic who switched from a favorite of the Black Panthers to a conservative spokesman (Jimmie Walker); a boxer who descended from the mountaintop to homelessness (Iran Barkley); Greco-Roman wrestler and MMA forefather from the Midwest (Dan "The Beast" Severn); entertainment wrestlers so convincing as villains that they repeatedly put their own lives in danger (Ivan Koloff, "Rowdy" Roddy Piper).
Popular in the Community