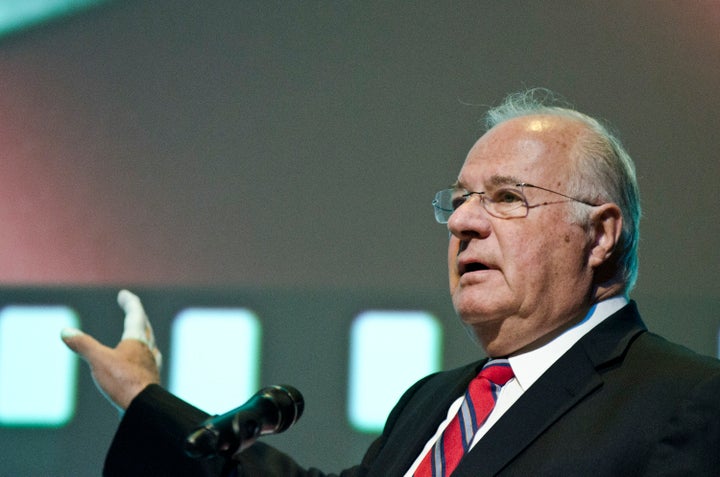 When billionaire Joe Ricketts on Thursday shut down the Gothamist and DNAInfo news sites he owns, his company didn't hesitate to identify one culprit: the staff's successful unionization vote last week.
"The decision by the editorial team to unionize is simply another competitive obstacle making it harder for the business to be financially successful," a spokesperson told the New York Times. More than a hundred workers lost their jobs.
Under U.S. labor law, it's illegal to tell workers you will shut down operations if they join a union. But it's not illegal to actually shut down the business once they unionize. Although Ricketts could not have legally laid people off in response to their vote, he was well within his rights to zap the entire company and turn the lights off in part or entirely because of the union. Gothamist's satellite sites in Chicago, Los Angeles, San Francisco and Washington, D.C., were shut down right along with the two offices that unionized.
Ricketts lost money on DNAInfo for years, and bought Gothamist only in March. But his decision to shut them down right after a union vote could be felt at non-union sites throughout journalism, particularly as a wave of digital news sites have sought collecting bargaining.
"It seems like someone like Ricketts is doing this out of capital due diligence more than anything," said Moshe Marvit, a labor lawyer and fellow at the Century Foundation think tank. "I think it definitely sends a message. He wanted to say workers should be afraid. Journalists aren't stupid. They're going to pay attention."
In the past two and a half years, editorial staffers at a slew of online news sites have signed union cards and pursued first contracts ― the erstwhile Gawker Media (now Gizmodo Media), Vice, HuffPost, ThinkProgress, Law360, RawStory and Guardian U.S. among them. (HuffPost journalists are represented by the same union that now represents laid-off Gothamist and DNAInfo employees, the Writers Guild of America, East.)
Most of the digital media campaigns have gone relatively smoothly, by American standards. Management at several outlets pledged to remain neutral and not oppose their staffers' unionization efforts. Some staffs managed to unionize with "voluntary recognition″ from their employers, bypassing a secret-ballot election, though in other cases there was much more pushback.
Law360 brought in anti-union consultants to try to persuade workers there to vote down the union. (The NewsGuild of New York won the election handily anyway.) Management at the liberal Slate has all but pleaded with employees not to unionize, with its chairman claiming an organized workforce could hurt its ability to become "a sustainable, profitable business."
But Ricketts has been much more direct about his hostility toward unions, and none of the other sites have pointed to union campaigns as a reason for layoffs or closure. On his personal blog, Ricketts, a Trump donor and free-market proponent who founded TD Ameritrade, posted an essay titled "Why I'm Against Unions At Businesses I Create."
"I believe unions promote a corrosive us-against-them dynamic that destroys the esprit de corps businesses need to succeed," he wrote.
As the Times reported, the company's chief operating officer also sent the staff a baleful email before the union election, asking, "Would a union be the final straw that caused the business to close? I don't know." (Twenty-five out of 27 journalists at Gothamist and DNAinfo ended up voting in favor of the union.)
WGAE has suggested the company may have overstepped some legal bounds in the course of the campaign, saying in a statement that "it is no secret threats were made to these workers." The union added that it will be "looking at all of our potential areas of recourse and we will aggressively pursue our new members' rights."
What that recourse wouldn't include is a job at a shuttered company. In a 1965 decision, the Supreme Court ruled that, even if threats of layoffs are illegal, a company couldn't be forced to rehire or shell out backpay to workers at a plant it had closed expressly because workers there had unionized. Theoretically, an owner like Ricketts could still run into trouble if it emerges that he closed the company in order to chill union activity at other properties of his. There's no immediate indication that was a motivation here.
But Ricketts could certainly chill union activity at sites he has nothing to do with.
When the United Auto Workers held a union election at a Nissan plant in Mississippi earlier this year, workers there heard a common refrain from management and anti-union colleagues: "Look at what happened in Detroit." Nissan even aired ads in the local television market depicting shuttered factories in Michigan, suggesting the same would happen in the city of Canton. It was an extremely effective (and legal) message. The UAW got routed in the vote, losing 2,244 to 1,307 in a preliminary count.
The next media company that wants to snuff out a union drive will almost certainly tell employees, "Look at what happened at Gothamist." Even some pro-union journalists may balk when they ponder their site's profitability. Not everyone has the stomach to play a game of chicken with a billionaire, and many companies would exploit that fear.
As Marvit put it, management at a news site can stay within the law so long as they don't threaten to burn the whole place down if a union comes in. "The message is more like, 'Fires have been known to happen,'" he said.
Popular in the Community