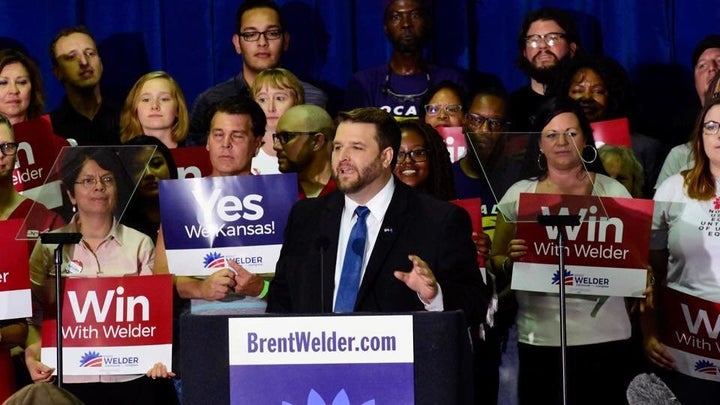 A group largely funded by a major conservative donor is spending hundreds of thousands of dollars in a swing seat Democratic congressional primary in Kansas, hoping to persuade voters to nominate a progressive candidate supported by Vermont Sen. Bernie Sanders. 
The ads, from the conservative group Ending Spending, aim to boost Brent Welder, a former Obama and Sanders campaign official who is running in the Democratic primary for the right to challenge GOP Rep. Kevin Yoder in Kansas' 3rd Congressional District, which covers Kansas City and its suburbs. 
Ending Spending is largely funded by billionaire TD Ameritrade founder Joe Ricketts, who donated $1 million to boost President Donald Trump's election. Ricketts' son, Todd, is the finance chair of the Republican National Committee. Other major conservative donors have also backed the group. While it sometimes attacks Republicans, it has focused the majority of its firepower on Democrats in recent cycles. Its "attacks" on Welder are designed to appeal to Democrats ahead of Tuesday's primary, potentially creating a clash between Welder and Yoder in November. 
"Meet progressive Brent Welder, community organizer, friend to Barack Obama and ally of Bernie Sanders. Welder wants to bring Obama-Sanders progressivism to Kansas," a cheery female narrator says at the beginning of the 30-second ad. "He'd raise the minimum wage to $15 an hour, wipe out tax breaks for big corporations, make college completely free. And he supports single-payer Medicare for All."
Only then does the narrator get to the rub: "We don't need more Obama-Sanders progressivism. Brent Welder. Too progressive for Kansas." 
Ending Spending has put about $150,000 behind the television ad buy, according to a media-tracking source. 
Welder is one of the three leading candidates in the district, which Democratic presidential nominee Hillary Clinton narrowly won in 2016 and is full of the highly-educated white voters who have turned against Republicans in the era of Trump. He's facing Tom Niermann, a moderate history teacher who's running a campaign focused on gun control and education, and Sharice Davids, a Native American former MMA fighter and Obama administration official who has the backing of EMILY's List. 
Niermann and Davids condemned the Ending Spending ads, and said they showed Yoder was desperate to save his re-election bid. 
"Yoder decided a long time ago to vote with party leaders instead of his community, counting on billionaires to bail out his campaign when he faces tough challengers, as he does now," the pair said in a joint statement. "He has now gone yet another bridge too far ― calling in Republican dark money to elevate an opponent of his choosing, rather than answer to his constituents for his egregious votes."
Welder "is the only Democrat beating Congressman Yoder in public polling and has raised more money than any Democratic challenger in the history of our district," campaign manager Shawn Borich wrote in an email. "Brent is proud to have worked for President Obama, who took on Wall Street bankers behind this Super PAC." 
Sanders and Alexandria Ocasio-Cortez campaigned for Welder earlier last month, boosting his campaign's fundraising.
Ending Spending's tactics aren't without precedent. In 2012, Democratic Sen. Claire McCaskill famously aired ads attacking GOP Rep. Todd Akin as "too conservative" in order to boost him over two more electable opponents. The ads worked, and Akin self-destructed in the general election. 
While Niermann and some local officials have expressed concerns about Welder's chances in the general election, national Democrats feel confident about ousting Yoder regardless of which Democrat triumphs on Tuesday because of Trump's deep unpopularity in the district. 
This story has been updated with a statement from Shawn Borich.
Calling all HuffPost superfans!
Sign up for membership to become a founding member and help shape HuffPost's next chapter