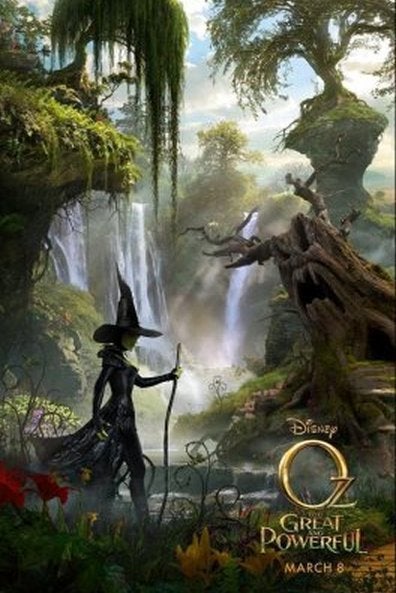 It's every screenwriter's nightmare. To be in the office of one of Hollywood's most powerful producers, pitching all of your script ideas. Only to then have that mover-and-shaker repeatedly say "Nope. Not interested."
"So I'm sitting in a room with a writer who now doesn't have all that much to say. And I feel sorry for the guy. So I ask Mitchell what he was reading," Joe recalled during a recent phone interview. "And he tells me that he's been reading the L. Frank Baum books to his kids. And I tell him -- I am somewhat embarrassed to admit -- that I had thought that The Wizard of Oz was a singular book. But as it turns out, Baum actually wrote a series of 14 Oz books."
So Kapner starts to walk Joe through the storylines of the various Oz books. And when Mitchell gets to No. 6 in the series, The Emerald City of Oz (which talks about who the Wizard is and how he actually got to Oz), Joe stopped the screenwriter.
"When Mitchell starts talking about that man behind the curtain and how he got there, this storyline immediately strikes me as a great idea for a movie for a couple of reasons. One was because I love The Wizard of Oz. But this character is only in the last few minutes of that film and we have no idea who he is," Roth explained. "And the second reason was -- during the years that I spent running Walt Disney Studios -- I learned about how hard it was to find a fairy tale with a good strong male protagonist. You've got your Sleeping Beauties, your Cinderellas and your Alices. But a fairy tale with a male protagonist is very hard to come by. But with the origin story of the Wizard of Oz, here was a fairy tale story with a natural male protagonist. Which is why I knew that this was an idea for a movie that was genuinely worth pursuing."
So at Joe's insistence, Mitchell -- borrowing bits & pieces from the Baum books -- cobbled together an origin story for the Wizard . Which Roth liked so much that he immediately took this story treatment to Dick Cook, the then-Chairman of Walt Disney Studios. And Cook (who knew that the Mouse Factory had made two previous attempts at Oz pictures, the aborted Rainbow Road to Oz project back in the 1950s and 1985's poorly received Return to Oz) immediately sparked to this idea. Insisting that Kapner turn his story treatment into a full-blown screenplay. More importantly, that Roth start looking for a director with visual effects experience who could possibly helm this sure-to-be big budget fantasy film for Disney.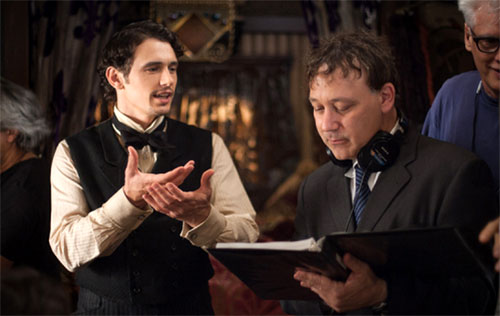 "Now as it turns out, Sam Raimi is my next door neighbor. His office on the Sony lot is right across from mine. So I tell him what I'm working on and I asked him to read the script. And Sam says 'No,' " Joe continued. "It turns out that -- just like me -- he's a huge fan of the 1939 film. So Sam tell me 'I'm not going to touch The Wizard of Oz.' And I tell him 'No, no. It's not a remake. In movie parlance, it's more of a prequel. Its storyline takes place long before Dorothy & Co. ever get there.' So Sam reads the screenplay and says 'God, I love this. I'd love to do this.' And that's how our journey began."
Which isn't to say that this 3 1/2 year-long journey was all that easy. In fact, it was Raimi & Roth's mutual love of the 1939 Oz film which then made Oz The Great and Powerful that much harder to shoot.
You see, to Sam's way of thinking, one of the things which makes the original Wizard of Oz such an entertaining movie even today is that it is obviously a product of Hollywood's studio system of the late 1930s / early 1940s. Which means that this all-shot-on-soundstages, early Technicolor film had a very distinctive look.
"And Sam, he wanted our Oz movie to -- as much as possible -- have the same sort of look & feel as that 1939 film. To have the same sort of production values. Which is why Sam insisted that we use as little green screen as possible on this picture. He wanted his actors to be standing on real sets with their feet on the ground. So that this fantasy world could then be tactile," Joe said. "So I introduce Sam to Robert Stromberg, the production designer on Avatar and Alice in Wonderland. And the two of them go off to Detroit and build these enormous sets on 7 different soundstages."
Speaking of Mr. Stromberg: While Joe is out thumping the tub for Oz The Great and Powerful, he's also helping Robert guide through the initial post-production phase of his directorial debut. Which is Maleficent, Roth's live-action prequel to Disney's 1959 animated release, Sleeping Beauty. When asked why he selected a production designer to helm this big budget fantasy (which stars Angelina Jolie as the misunderstood Mistress of All Evil), Roth got right to the point.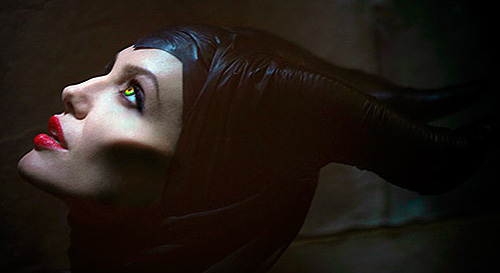 "Robert Stromberg's my guy. I had him design Alice. He did a great job designing Oz. I knew that he wanted to direct, and -- in my role as a producer -- I really wanted to help Robert further his career," Joe stated. "Of course, my original thinking was that I wanted to put Robert on a small picture at first. Let him get his feet wet. But then the script of Maleficent came along. And this is another one of those fairy tale stories where the look of your movie is such a key element when it comes to the overall success of this picture. The first images that you put out there, the footage that you use in your trailer, they all help the audience decide whether they eventually want to go and see your movie or not. And since Robert had done such a great job on Alice & Oz and we had this terrific script and Angie had already agreed to do the movie, I figured why not just toss him in the deep end?"
But as for getting into any further details about Maleficent (which is due to hit theaters on July 2, 2014) or that Alice in Wonderland sequel which Roth recently hired original Alice scribe Linda Woolverton to write, the usual gregarious Joe suddenly got close-mouthed. Preferring instead to shine a spotlight on Oz The Great and Powerful. Which (to Roth's way of thinking, anyway) strikes just the right balance between being a stand-alone piece of entertainment aimed at today's audiences and having just enough sly winks & nods to the 1939 film to appease all of those Wizard of Oz fans out there.
"And just wait 'til you see the 3D in this movie. Most of the time, 3D is used as artifice. It's added after the fact. But we knew -- right from the get-go -- that we wanted Oz The Great and Powerful to be shot in 3D. It was part of our plan for this picture right from the start. Sam knew where and when he wanted to use 3D in this movie and chose his shots accordingly," Roth enthused.
And to think that this big budget 3D trip to Oz (which reportedly cost $200 million to make and another $125 million to promote) only came about because a screenwriter ran out of story ideas during a pitch session with a producer.
Jim Hill is an award-winning entertainment writer who lives in New Boston, NH. Over the past 30 years, he has interviewed hundreds of veterans of the animation & themed entertainment industry and written extensively about The Walt Disney Company.
Jim is currently working on a behind-the-scene history of the development & construction of Disneyland. For his more immediate musings on movies, TV shows, books and theme parks, please check out his blog, jimhillmedia.com.