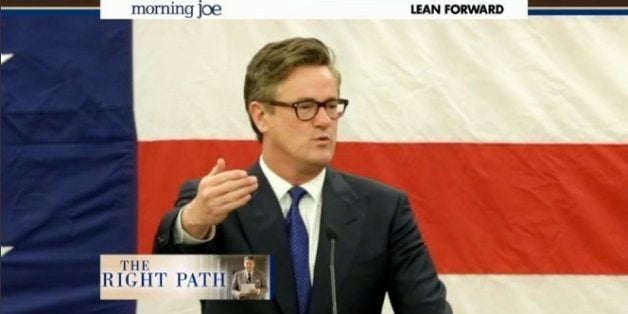 NEW YORK -- MSNBC host Joe Scarborough told The New York Times on Tuesday that he's "not running" for president in 2016 and "not considering running."
The Times reported that Scarborough, a former Republican Congressman from Florida who often speaks of his past political experience on MSNBC's morning show, "wants an end to the speculation." Scarborough told the Times that his ability to book political guests on "Morning Joe" could be "harmed when people start thinking I'm going to put on a shield and pick up a sword and start fighting in their arena."
It's understandable that Scarborough would want to tamp down speculation so as not to scare off potential guests who may be wary of one day competing against the MSNBC host. But a day earlier, it was Scarborough on Twitter and co-host Mika Brzezinski on "Morning Joe" who were giving more oxygen to the 2016 rumors.
On Monday morning, Scarborough tweeted about giving a speech over the weekend in New Hampshire and moderating a panel at the Northeast Republican Leadership Conference.
The headline of the Newsmax story which Scarborough promoted on Twitter was "Joe Scarborough Gets Rave Reviews in New Hampshire, Hints at 2016 Bid."
Scarborough wasn't on set Monday, but co-host Brzezinski mentioned the same article that described how Scarborough "strongly hinted" at a presidential run.
"Newsmax has a great piece up this morning -- I love Newsmax -- about the great reception he got and everything that happened there, what he said, what others said, packed house," Brzezinski said. "So, highlights on Newsmax, but also on "Morning Joe."
Brzezinski then played video of Scarbrough giving a speech in front of a large American flag, signing books and speaking on a panel where it was suggested he make a run for office.
"The prospect based on Scarborough's own words still seems hypothetical and remote," a Politico spokeswoman told HuffPost. "If this became a near-term possibility, we would discuss it with Joe and make a judgment based on circumstances before us."
The latest on-air speculation follows Weekly Standard editor Bill Kristol appearing on "Morning Joe" last month with a list of nine possible contenders for the 2016 Republican nomination. No. 9: Joe Scarborough.
Since the Kristol appearance, several "Morning Joe" regulars have added to the 2016 buzz.
Mark McKinnon, a former media adviser to George W. Bush and John McCain, told The Daily Caller that Scarborough is "a great candidate" on paper and that he "would be highly entertaining and good for the party."
"I think Joe looks at the potential field and thinks, 'I could compete.'" McKinnon said. "And I think there are potential donors and supporters who think the same thing."
Former Bush White House Communications Director Nicolle Wallace, who also appears regularly on "Morning Joe," said last week that Scarborough would make a good 2016 candidate. And Politico's Mike Allen, who appears on a Politico-branded morning segment, referenced Scarborough's New Hampshire trip in three separate editions of his influential Politico Playbook, including a link to the Newsmax article on Monday.
There are risks to Scarborough's flirtation with presidential politics.
Scarborough, who is also a Politico contributor, is thus writing for a political news site while simultaneously being covered by it as a potential candidate. Presumably, Scarborough would have to relinquish the Politico platform if taking more serious steps toward exploring a run for office.
Similarly, there are potential pitfalls in taking on any role in party politics while also hosting a cable news show.
MSNBC, of course, allows partisan hosts to give their political opinions on air. But the network suspended Scarborough, and then-host Keith Olbermann, for donating to candidates in 2010, and has drawn a line at helping raise funds for political parties or individuals.
Last month, MSNBC host Ed Schultz canceled a keynote speech he was planning to give at a Florida Democratic fundraiser after The Huffington Post raised questions with the network.
But this past weekend, Scarborough served as a moderator at a Republican fundraiser in New Hampshire.
On Monday, Politico's Dylan Byers asked MSNBC why Scarborough was permitted to appear at a fundraiser, while Schultz wasn't. The distinction, an MSNBC spokesperson said, was that Scarborough participated as a panel moderator and "not part of any fundraising component of this conference."
Newt Gingrich, the former House speaker and current co-host on CNN's Crossfire, told the Times that he couldn't say if Scarborough is serious about running, but that he's "certainly serious about letting you talk about him."
"It makes him bigger, not smaller; it gives him a chance to say what he believes," Gingrich continued. "It doesn't cost him anything, and as long as he's careful about his MSNBC contract, he can have fun."
This post was updated with a response from Politico.
Popular in the Community