Amtrak's Acela, for a premium, shuttles the media, political and financial elite between Washington and New York. On its way, it cruises past some Baltimore neighborhoods and, in the process, educates its passengers about the poverty besetting Charm City.
That perspective -- glimpsing urban blight through the window of an express train -- has been brought to bear this week as cable pundits have been grappling with the unrest in Baltimore.
MSNBC contributor Mike Barnicle, speaking on the network's "Morning Joe" on Monday, cited his frequent Amtrak rides through the city in assessing the Baltimore situation. "It's a huge minority population in Baltimore City, especially in West Baltimore. You can see if you take the Amtrak train from Washington to New York when it rolls through Baltimore, you can see a visible display, out of both sides of your window, of poverty, of decaying neighborhoods that have been there for decades."
Fellow pundits nodded along as Barnicle described the familiar window scene. On Tuesday, host Joe Scarborough, a former congressman, reiterated Barnicle's point. "As Mike said a couple of days ago, get on Amtrak, drive through Baltimore, parts of that city looks like a war zone and it has now for 40, 50 years," he said. "And you talk about the hopelessness that sets in after all of that time, it is a complete and total failure of public policy over the last past half-century."
On Tuesday, Republican presidential candidate Sen. Rand Paul (R-Ky.) told conservative radio host Laura Ingraham about his own ride through the city. "I came through the train on Baltimore (sic) last night, I'm glad the train didn't stop," he said while laughing.
During the chaos, at least 15 police officers were injured, numerous buildings and vehicles were looted and burned, and Maryland Gov. Larry Hogan signed an executive order declaring a state of emergency and activated the National Guard.
Gray was chased by police for allegedly making contact with one of the officers on April 12. While in police custody he sustained a fatal spine injury. He underwent a double surgery on his spine April 14. He died from his injuries on April 19.
Watch the clips from "Morning Joe" above.

Before You Go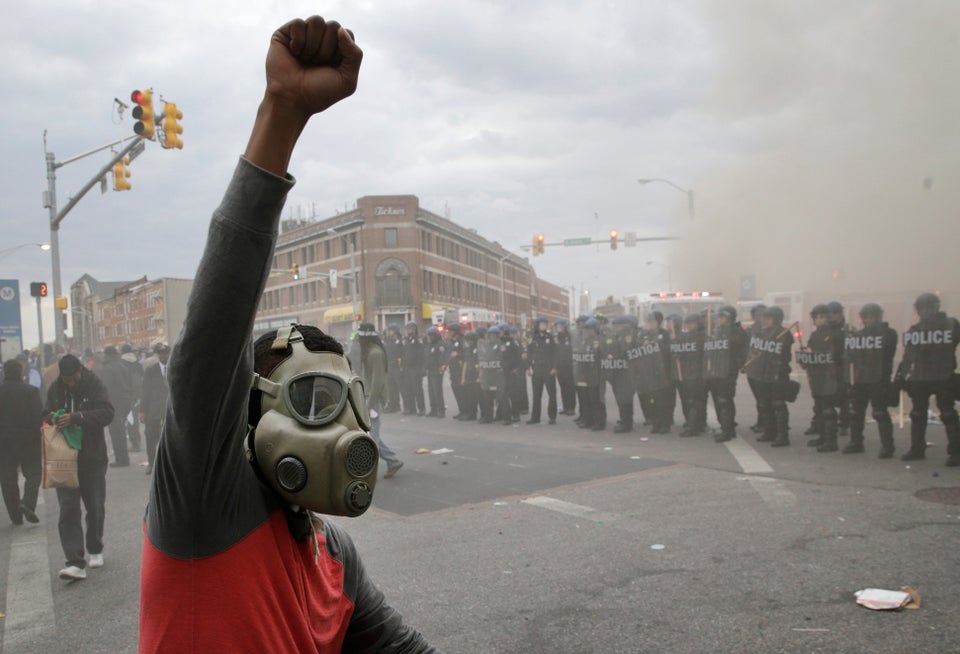 Baltimore Protests
Popular in the Community