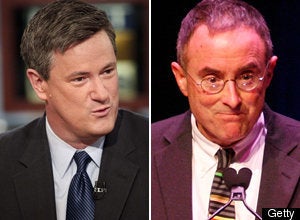 Politico has added opinion columnists for the first-time ever — and it's chosen two big names to start with.
While Scarborough will write from a conservative perspective and Kinsley will write from a liberal perspective, the columns will not be an explicit "point-counterpoint" format, though they will attempt to engage each other when able.
"These two will offer ideological balance, as their opinions generally come from competing ends of the political spectrum," Politico founders John Harris and Jim VandeHei said in a memo to staff. "But what they have in common is much more important: They are both original thinkers with exceptionally compelling voices. Both are intellectually honest people who by long habit resist doctrinaire thinking or hypocrisy by politicians of any stripe. They both have a natural appreciation for the nonstop argument, and nonstop carnival, of politics."
The founders added that the opinion columns will be labeled as coming from "an ideological perspective."
"There are some columns, even at the great papers, that I just skim because I know how they're going to end even before I read the first sentence," Scarborough told the New York Times. "The last thing I'm going to do is get in an ideological corner and preach to the choir."
Related
Popular in the Community