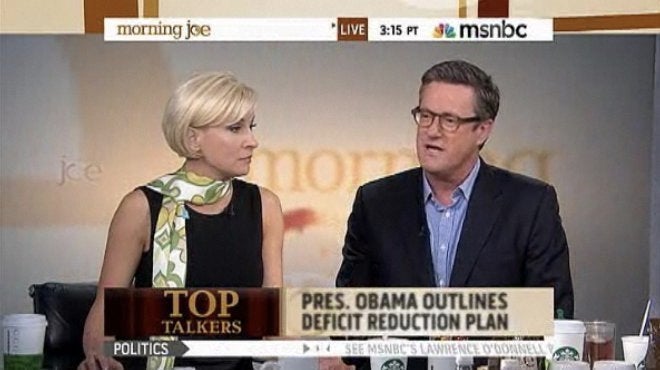 Joe Scarborough and Mika Brzezinski clashed over President Obama's denunciation of the Republican budget plan.
Obama had very harsh words for the plan, which has been the brainchild of Republican Rep. Paul Ryan, in his speech about the deficit on Wednesday. As the "Morning Joe" crew assessed Obama's speech on Thursday, Scarborough pronounced himself mystified as to why Obama had invited Ryan to sit in the front row during the speech, and then criticized his plan so vehemently.
"I don't understand tactically, why do you invite Paul Ryan to come sit at this speech and insult him?" he said, speculating that it would hurt Obama in negotiations with Ryan down the line. "This was not a smart political play," Scarborough continued. "Let him watch in his office and be insulted."
Brzezinski disagreed. "I don't get it," she said. "I think the Republicans have said some really critical things about the President on camera without him there and that seems actually cowardly." It was courageous of Obama, she said, to say what he though to Obama's face.
"Are you serious?" Scarborough said incredulously, adding that Brzezinski was "spinning" for Obama. The two argued about whether or not Obama had made the right move. Scarborough got the last word, though.
"That was a stupid political move, Mika," he said. "You know it was a stupid political move."
WATCH: