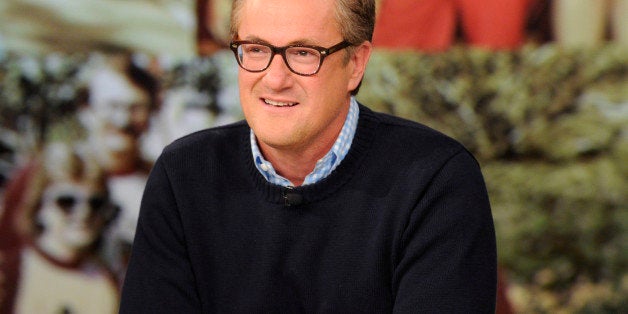 NEW YORK -- MSNBC will allow "Morning Joe" co-host Joe Scarborough to give the keynote address at next month's Cheshire County Republican Lincoln Day Dinner, a New Hampshire political event that costs money to attend and has been described as a fundraiser.
While MSNBC's opinionated hosts can spout views on the air, the network does not allow them to raise money for political parties or give to candidates without permission from the network.
MSNBC host Ed Schultz in February was forced to cancel his keynote address to the Broward County Democrats' fundraiser in Florida because of the network's policy. Dinner tickets for that event started at $150.
James Pindell, a political reporter and analyst with New Hampshire station WMUR, described the upcoming Lincoln Day Dinner to HuffPost as "a big annual fundraiser for the Cheshire County Republicans." Dinner tickets originally cost $50, or $35 for Young Republicans.
HuffPost first raised questions Tuesday morning about why Scarborough was giving the keynote when Schultz wasn't allowed to give one. On Wednesday night, the network suggested a distinction between the Broward County and the Cheshire County events, saying the GOP event is not a fundraiser.
"Joe isn't participating in a fundraiser," MSNBC spokeswoman Lauren Skowronski said in a Wednesday night statement. "MSNBC hosts often participate in events where there is a nominal fee for registration or tickets that basically covers the cost of the event. There has been no change in policy."
After MSNBC put out the statement, the Cheshire County Republican Committee announced that ticket prices would be reduced to $25, according to Politico. The price of admittance will apparently cover costs, rather than help raise funds.
Scarborough, a former Republican congressman and the recent subject of 2016 presidential chatter, appeared last month at the Northeast Republican Leadership Conference, a fundraising event in New Hampshire, where tickets cost $50 to $199. After the event, an MSNBC spokeswoman told Politico's Dylan Byers that Scarborough appeared as a panel moderator and was "not part of any fundraising component of this conference."
The MSNBC policy over employees helping fund political campaigns and candidates seems to have grown out of the NBC News policy. News organizations typically prevent journalists from giving to candidates and causes.
Of course, MSNBC is a different beast, with cable hosts encouraged to share their political views. And yet MSNBC has drawn a line before between advocating a party's views and giving money to it.
In 2010, MSNBC suspended Scarborough, an opinionated conservative, and former host Keith Olbermann, an opinionated liberal, for giving money to Republican and Democratic candidates, respectively.

At the time, Olbermann suggested the policy for maintaining supposed journalistic objectivity was outdated and needed "to be adapted to the realities of 21st-century journalism."
Popular in the Community