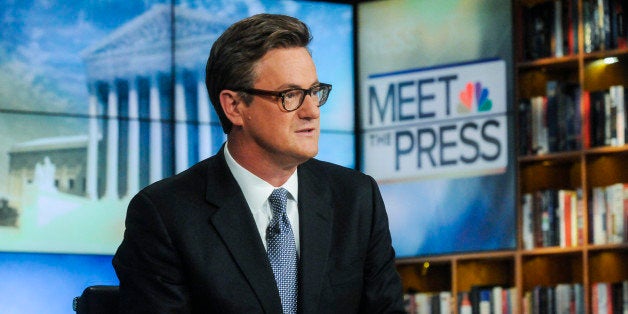 NEW YORK -- MSNBC host Joe Scarborough will give the keynote address next month at the Cheshire County Republican Lincoln Day Dinner, a New Hampshire political event that's sure to generate more 2016 buzz around the former Republican congressman.
Scarborough tried tamping down presidential speculation last month after "Morning Joe" aired a campaign-style video of his weekend visit to New Hampshire. "Morning Joe" regulars have recently talked up the co-host's 2016 chances in interviews, and Scarborough had a closed-door meeting last week with Republicans in South Carolina, another early primary state. However, Scarborough has insisted he's not running.
On Tuesday, WMUR's James Pindell reported that Scarbrough would return to New Hampshire for the Lincoln Day Dinner, which in recent years has featured keynote speeches by former Sen. Scott Brown (R-Mass.) and 2012 candidate Rick Santorum. Pindell told HuffPost in an email that the Lincoln Day Dinner is "a big annual fundraiser for the Cheshire County Republicans."
In addition to raising 2016 questions, the dinner could be problematic from an MSNBC policy standpoint if funds generated go to the Republican Party. While MSNBC hosts are free to offer political views on air, the network draws a line when it comes to raising money for political parties or donating to candidates. An MSNBC spokeswoman did not immediately respond with a comment regarding Scarborough's upcoming appearance.
In 2010, MSNBC suspended Scarborough and then-host Keith Olbermann for donating to political candidates. In February, host Ed Schultz was forced to cancel a keynote speech at a fundraising dinner for the Broward County Democrats.
A seat at the upcoming Lincoln Day Dinner costs $50 or $35 for young Republicans. While dinner tickets at the Broward County fundraiser were more costly -- starting at $150 -- the dinners appear to serve similar fundraising functions for county political groups. Also, Schultz would have given the keynote to Democrats in Florida, just as Scarborough is scheduled to give the keynote to Republicans in New Hampshire.
State Republican Party Chair Jennifer Horn could not be immediately reached for comment.
Politico raised questions last month about Scarborough's appearance at the Northeast Republican Leadership Conference, a fundraising event in New Hampshire.
An MSNBC spokeswoman told Politico that Scarborough attended that event as a panel moderator and that "hosts often participate in events where there is a nominal fee for registration or tickets." Scarborough, the spokeswoman said, was "not part of any fundraising component of this conference."
Popular in the Community