"Morning Joe" host Joe Scarborough called out the problem with how U.S. leaders reacts to mass shootings, saying on Monday that had the gunman in Texas been named Muhammad, "Washington would be on fire this morning." 
On Sunday, Devin Patrick Kelley, 26, killed 26 people and wounded 20 others in an assault with a military-style rifle at a church in Sutherland Springs, law enforcement officials said. The gunman was later found dead.
Scarborough said that Kelley's name was significant in the response from government officials.
"If a guy named Muhammad blew up that church yesterday, oh my God. Oh my God. This morning, Washington would be on fire." Instead, he said, "All we get is 'let's pray. I feel real bad.'"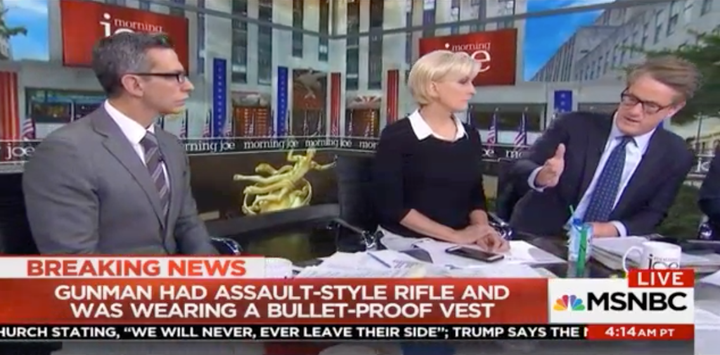 He then noted President Donald Trump's response to the terrorist attack in New York City last week, in which Sayfullo Saipov, an immigrant from Uzbekistan, allegedly killed eight people when he drove a truck onto a bike path. After that attack, for which the self-described Islamic State claimed responsibility, Trump decried terrorism, renewed discussion about the death penalty, called for radical vetting of immigrants and attacked political opponents and America's judiciary.
Responding to the Texas massacre while visiting Japan, Trump said, "This isn't a guns situation. ... This is a mental health problem at the highest level." 
U.S. lawmakers, meanwhile, routinely react to mass murders in which political terrorism is not a motive by coming out in full force to offer their thoughts and prayers ― and little else. House Speaker Paul Ryan (R-Wis.) offered his prayers on Twitter after Sunday's shooting, which sparked a backlash:
Scarborough went on to say that Americans "wouldn't put up with this with any other epidemic."
"We would not. ... If this were terrorism, Islamic, radical terrorism, again Washington would be on fire this morning," he said.
REAL LIFE. REAL NEWS. REAL VOICES.
Help us tell more of the stories that matter from voices that too often remain unheard.
BEFORE YOU GO
PHOTO GALLERY
Texas Church Shooting