When I realized my lifelong dream to move to Princeton, NJ two years ago, I expected to meet new people and make a few friends. I also knew I wanted to reinvent myself after 30 rewarding years as head of the organization I founded--NFTE. But I didn't expect to meet such an accomplished and interesting thought partner as Joe Seldner--almost as soon as I got into town.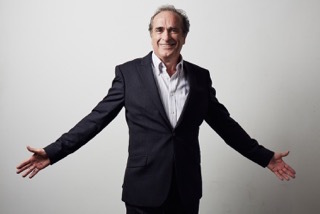 His background is eclectic and remarkable: degrees from Columbia (journalism) and Yale (MBA)--where he also taught journalism while in grad school, and stints as creative executive to Tom Hanks, movie producer, speechwriter and much more. Today he is both an educator and a student: since pursuing graduate studies at Yale, he continues to teach at the Arts Council of Princeton, Boston Film and Video Society, University of California-Irvine, University of Virginia, and others. And he remains passionately committed to what he believes in and bursting with ideas and energy. I asked Joe--an advisor, confidante, business associate and above all, ally--to sit down not long ago for this interview.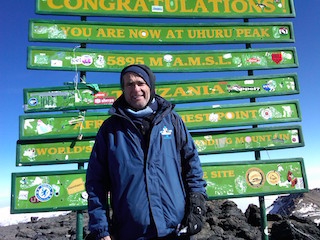 Joe Seldner at the summit of Kilimanjaro three years ago, at the age of 61!
SM: You have had a diverse and unusual career. Are there any constants you have found in all the things you've done?JS:
There certainly are a few.
The ability to express oneself clearly and succinctly. Even before the age of the selfie and Twitter, it was important to respect the short attention spans most people have.
The ability to think strategically and organize effectively, whether for one's career or for planning messaging and marketing campaigns.
Getting along with people from all walks of life.
These are invaluable no matter one does, whether producing movies, developing an international brand or working at any job in any profession.
SM: Have you viewed yourself primarily as a writer, a businessman, an artist or a social entrepreneur?
JS: The easy answer is all of the above, but creativity, empowering people through education, and the pursuit of social justice have been themes throughout my life, even going back to childhood. My essay on my college application was about wanting to be a writer because I knew I wanted to experience so many things, and being a journalist, a writer, seemed an appealing way to taste a bit of many things.
I've always loved interviewing people and hearing their stories, and I love creating and telling stories. Everyone (almost) has a story. As for social justice, I can remember as a kid being outraged by people treating others badly and wanting to be in a position to help, hence the recurring theme of social justice.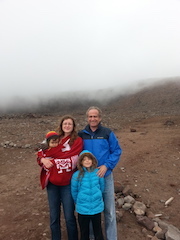 Joe is a single father to two adult children and a grandfather to two children, seen here in Ecuador
SM: You produced the HBO movie, "61*" one of the great baseball movies ever, worked as creative executive to Tom Hanks and been in and around movies and TV for a long time. How did you get started in film? And what does a "creative executive" do?
JS: I always loved the power and storytelling magic of movies and TV, and now in other media as well. They have the ability to educate and inform as well as entertain, After working as a journalist, I went to business school at Yale, but continued to write and teach. All my classmates were going to work at investment banks and consulting firms. I knew I wanted something more creative. I got hired as assistant to the president of Columbia Pictures, then was lucky enough to move to California to work as creative executive for a young actor named Tom Hanks. Creative executives, in shorthand, are responsible for finding ideas, stories, scripts, and working with writers, directors, actors and studio executives to develop those ideas. Three of the first 25 scripts I read for Tom were "Dead Poets Society," "Ghost" and "Forrest Gump," all of which went on to win Oscars for best screenplay.
SM: Did you have any idea at the time that Hanks would blossom into the world-renowned artist he is now?
JS: He was already on his way up then, but wasn't big on taking risks. Now he is, and has become, one of the most prolific producers of movies and TV in addition to his remarkable acting skill. You could always see he had that down-to-earth quality that people loved, and a graciousness that he--incredibly--still has.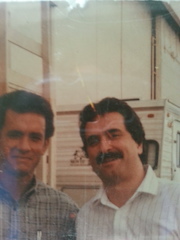 Joe worked as Tom Hanks' Creative Executive
SM: What are some of the projects you are working on now?
JS: In addition to writing, which I always do when I can, I am working on an exciting project that will explore in print and video the entrepreneurial spirit in places here and abroad that have experienced war and chaos. I am also involved in a pioneering project designed to help teach basic tech and entrepreneurship skills to people over 50.
SM: You have been a leading advocate of a national effort to help people over 50 learn new skills. Tell us more about that project and why you are pursuing it.
JS: I have been concerned for years now that little if anything is being done to help the tens of millions of people over 50 who have limited, or zero, financial resources. Much to my amazement, few people know--and even fewer talk about--the fact that of the 100 million people in the United States over 50, about 35 million have no savings for the 30, 40, even 50 years they may live, and another 40 million or so have very little money, certainly not enough to survive more than a few years. This is an enormous, ignored problem, and it is here now, not ten years from now.
SM: Tell us about the STEEM Advantage Foundation
JS: STEEM stands for Science, Technology, Entrepreneurship, Engineering and Math. We added the second E, entrepreneurship, to the more familiar STEM. We want to be leaders in both teaching those skills to low-income young people, and to some of the millions of older people I mentioned above. For people over 50, STEEM aims not just to teach them marketable skills for the 21st century, but also reignite in them the spirit of entrepreneurship. That doesn't mean they will all start their own businesses, but they will begin to think of themselves, and what they have to offer, in new ways, that their existing skills are significant, and that they can acquire new ones. STEEM also provides me the opportunity to do more mentoring, which I love, and interact as an advisor to people of many different backgrounds and ages.
SM: You were raised in Princeton but then were away for 28 years before coming back to raise your children by yourself 20 years ago. What are the major changes you have seen, and what has stayed the same.
JS: The major change--for the better--has been the demographics. I love Princeton, but when I was young here, it wasn't a very ethnically diverse place. Now it is a mini melting pot. The same? It still has its beauty, its uniqueness as a wonderful college town close to two major cities, and its very smart, interesting people. It was in many ways an ideal place to be a single dad, a place that challenged my kids while providing them with a real community. The other change since my youth is that for some reason, everyone seems to be younger than I am!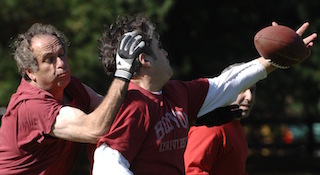 SM: You have been a devoted athlete for all your life starting as a wide receiver at Columbia University up to today when you play touch football regularly and climbed Mount Kilimanjaro in 2013. Why such an interest in athletics?
JS: I value the physical parts of life, even more now than 40 years ago. When I play football or climb a mountain (which I did with an artificial hip) it frees me from my worries. When you hike 8 hours a day, you get to do some pretty creative thinking. There's also I suppose an element of wanting to keep old age at bay as long as possible.
SM: What would be the three pieces of advice you would give young people?
JS: One of my favorite quotes, about a former star athlete, is "He never listened to the booing because he never listened to the cheering." I love that - don't be swayed by others' criticism but don't be sucked in by their praise. Also, be learning constantly, and from all sorts of people even if they aren't like you. And never allow yourself to be mistreated by others - as much as is possible.
Related
Popular in the Community