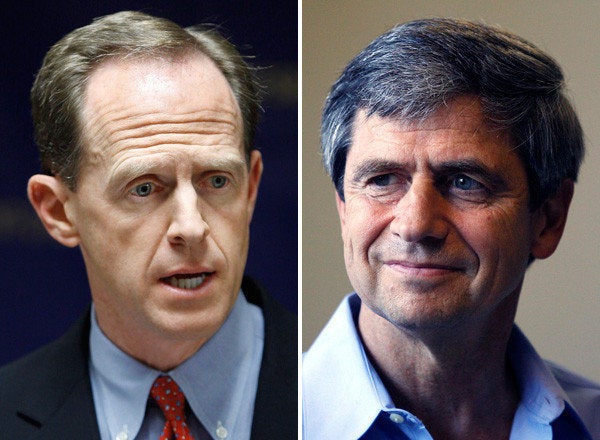 A new poll and high-profile prognostication have heightened the electoral prospects of Pennsylvania Senate Democratic candidate Joe Sestak and spurred talk of another dramatic campaign comeback.
On Tuesday the Democratic-leaning polling firm PPP released findings showing Sestak leading his Republican challenger, former Club for Growth President Pat Toomey, for the first time this cycle: 46 percent to 45 percent. Sestak's campaign did not pay for the poll, which was done with recorded voice interviews and with respondents sampled from actual voter lists. A day prior, the odds-makers at ABC News had moved the race from "lean Republican" to "toss up."
The dual pieces of news added a jolt of hope to Democratic Party infrastructure, which had been waiting for weeks for some upward movement from the Sestak campaign. It also jarred loose a sense of déjà vu for those who watched the congressman close the gap against Senator Arlen Specter (D-Penn.) during the closing days of the Senate primary.
"This is his shtick," said one high-ranking operative.
As was the case then, Sestak has gained ground largely by hording his ammunition. The Pennsylvania Democrat is one of the few Senate candidates in the country with more cash on hand than his Republican opponent: $3.3 million to Toomey's $2.7 million. And while the attack lines have remained the same, Sestak has begun beating a louder drum with respect to Toomey's ties to Wall Street, China and his work as a derivatives trader.
"The question I had two weeks out is can he come back from an eight-point deficit," said Terry Madonna, pollster and director of the Center for Politics and Public Affairs at Franklin & Marshall University. "Having said all of that I do think that some of these attack ads have to take their toll on Toomey."
But commercials aren't the only explanation for why the Senate election has tightened. Nor do they account for the nervous tension that Republicans in the Keystone State are beginning to feel. Top Democratic strategists insist that the emergence of Republican candidates in neighboring states -- namely Christine O'Donnell in Delaware and Carl Paladino in New York -- has essentially frightened Democratic voters into re-engaging in the political process. When President Obama and Vice President Biden did a joint campaign appearance in Delaware last Friday, the high-ranking operative said, it was with an eye towards showcasing "the O'Donnell rise" in "the Philadelphia media market."
Not everyone buys the notion that national or neighboring Republicans could serve as a motivator for Pennsylvania Democrats. "I hear that but where is the evidence for it?" said Madonna. "Them saying it doesn't make it true... I'm not ruling out that there is some kind of an affect like that. I just want to see data from the suburbs first."
"I get the New York Times delivered every day to my house," said Chris Bravacos, President and CEO of the Republican-leaning Bravo Group. "And I don't see anything else on my street other than the Patriot News. You can draw a circle around the people who are always focused on politics as a hobby. It is a static number. Most people don't spend much time thinking about it so I don't think they even know who [O'Donnel] is... Though the witch hook may have made that discussion more interesting."
A far more salient explanation for why the race has tightened, said Bravacos, is simple arithmetic. "This is a state with a million more registered Democratic voters"
The likelihood of a Sestak win still remains remote. Earlier in the week, Nate Silver, the polling analyst for FiveThiryEight, penned a piece casting doubt on both internal polls showing a closing gap and the broader prospects of a Sestak comeback. The underlying skepticism of prognosticators, meanwhile, hasn't gone away. In a year in which Republican enthusiasm has dwarfed the opposition, the challenge of getting registered Democrats to the polls is difficult. But in Pennsylvania, it's not impossible.
"I think, until elections are over, everyone is concerned. All you have to do is win by a vote," said Bravacos. "The Republicans always win in September and Democrats always house their money until the end.... So of course it is going to tighten. If you get a 52-48 win in Pennsylvania that's a big margin."
Popular in the Community