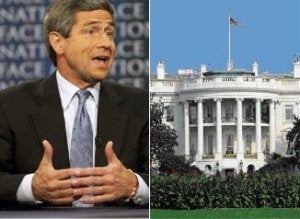 Lawmakers on both sides of the aisle are amping up pressure on the White House to divulge details of Rep. Joe Sestak's allegation that the Obama administration offered him a federal job in exchange for dropping his primary challenge to Arlen Specter in Pennsylvania's race for Senate.
Seven Republican members of the Senate Judiciary Committee on Wednesday sent a letter to Attorney General Eric Holder demanding the Department of Justice launch a probe into whether any illegal activity took place.

The New York Times reports on the charges the GOP senators detailed in a memo to Holder:
In a letter to Attorney General Eric H. Holder Jr., the Republican senators said the assertions are "very serious and, if true, suggest a possible violation of various federal criminal laws intended to safeguard our political process from the taint of bribes and political machine manipulation."
...
Those signing were Senators Jeff Sessions of Mississippi, Jon Kyl of Arizona, Lindsey Graham of South Carolina, Tom Coburn of Oklahoma, Chuck Grassley of Iowa, John Cornyn of Texas and Orrin G. Hatch of Utah.
(Earlier this month Holder declined to say whether the DOJ was investigating Sestak's claim).
One the most extreme charges hurled by Republicans at the White House came from Rep. Darrell Issa in an e-mail to his campaign supporters Wednesday. The Hill relays the subject of California congressman's message indicating his latest take on the matter: "The Sestak Affair - Obama's Watergate?"
Even some Democrats are sounding-off on the matter. On Wednesday, Pennsylvania Gov. Ed Rendell -- one of Specter's strongest allies during the primary fight -- became the latest high-profile Democrat to call on the White House to cough up information on the matter.
"I actually think the White House and Joe Sestak should be a little more detailed and put this behind them," Rendell told reporters at a press conference, but added that he's certain no one is guilty of an illegal offense.
The Allentown Morning Call reports:
[Rendell] predicted that someone at the White House probably told Sestak that if he wanted to do something with his "terrific background in the military" there would likely be a job for him with the administration. But Rendell said he does not believe it was any kind of a bribe to get Sestak out of Specter's way.
Senate Majority Whip Dick Durbin and Sestak ally Rep. Anthony Weiner (D-N.Y.) also called on the the White House to provide an explanation for Sestak's repeated claims that he was offered a high-ranking position.
Meanwhile, the Obama administration remains mum even after months of being pressed to offer an explanation.
White House officials have insisted that "nothing inappropriate" took place. Press Secretary Robert Gibbs declined to say if Sestak was offered a job, but did say on Sunday that White House lawyers and others have looked into the matter. Political adviser David Axelrod hinted that the White House might have more to say.

"I don't think that any questions will be left unanswered on this," Axelrod said during a Monday appearance on CNN.
WATCH: Robert Gibbs Mum When Asked Repeatedly About Sestak's Job Offer Claim
Popular in the Community