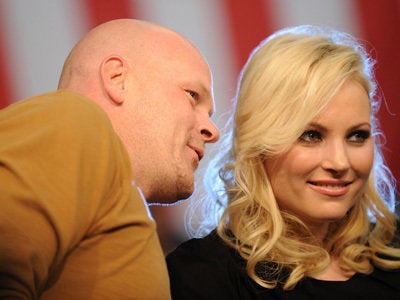 In a somewhat predictable move, Joe The Plumber, aka Samuel Wurzelbacher, has signed a book deal. Joe told Fox News that he was "broke," but still took time in considering his publishing house because he wanted to spread the wealth around.
"Everyone came at me to write a book. They had dollar signs in their eyes. '101 Things Joe the Plumber Knows' or some stupid s--- like that. Excuse me, I am sorry," he said. "You know I will get behind something solid, but I won't get behind fluff. I won't cash in, and when people do read the book they will figure out that I didn't cash in. At least I hope they figure that out."

The book, called "Joe the Plumber -- Fighting for the American Dream," is to be released by a group called PearlGate Publishing and other small publishing houses.

"I am not going to a conglomerate that way we actually can get the economy jump started. Like there is five publishing companies in Michigan. There's a couple down in Texas. They are small ones that can handle like 10 or 15,000 copies. I can go to a big one that could handle a million or two. But they don't need the help. They are already rich. So that's spreading the wealth to me," he said.
CJR has reported several new details on the book today. Titled "Joe the Plumber: Fighting for the American Dream," it's slated to be released on December 1st of this year and will be co-written with a novelist named Thomas Tabback.