Arizona State Sen. Lori Klein (R) held a fundraiser Friday night in Prescott, Ariz., featuring Ohio GOP congressional candidate Samuel Wurzelbacher, more commonly known as "Joe the Plumber" from the 2008 presidential campaign.
"I'm not worried about the news," he said. "I'm just speaking like I want to speak," adding that he didn't care about being "politically correct."
"You know, for years, I've said, you know, 'Put a damn fence on the border going to Mexico and start shooting,'" he said. "I'm running for Congress, and that should be a bad thing to say. You know what, that's how I feel. I'm not going to hide it because I'm running for an office. I want my borders protected. I'm very, very adamant about that." (It's at 28:18 of the clip, which comes from Prescott eNews. Full video below)
After being redistricted in the Senate, Klein is running for a seat in the state house. She pointed a pink handgun at an Arizona Republic reporter in July 2011 and said "Oh, it's so cute." The gun had no safety, though she said that she did not have her hand on the trigger. She also was a state chair for Herman Cain's presidential campaign and defended him against accusations that he had had a 13-year affair with Ginger White, saying he's "never been anything but a gentleman -- and I am not an unattractive woman." She added that in politics, "we want a virgin to do a hooker's job."
"As far as the birth certificate, I'm not done with it. I've taken a lot of heat on that, but let me make one thing clear: We are looking at forged documents. We're not looking at whether he was born in Kenya or anything else, we are looking at fraudulent government documents from Hawaii, that's been our thrust all along and we're going to continue that. We know we have proof they're fraudulent, but nobody wants to touch them. Nobody. The candidates for president all way down the line. That's sad. That is really sad."
"I'm a big guy and I can take the heat," he said. "I'm just trying to do what I think is right for Maricopa County and the United States of America."
The crowd applauded him, and someone yelled, "Go get 'em Joe!"

Alexander Becker contributed reporting.
UPDATE: 7:05 p.m. -- Rep. Marcy Kaptur, (D-Ohio), who is running against Wurzelbacher and heavily favored to win, condemned his comments. "Joe, the Plumber's comments have no place in a civil society," she said in a statement. "A Member of Congress is sworn to uphold the Constitution, not to take the law into his own hands. He should take back his words and apologize to everyone who respects life, the Constitution and the rule of law."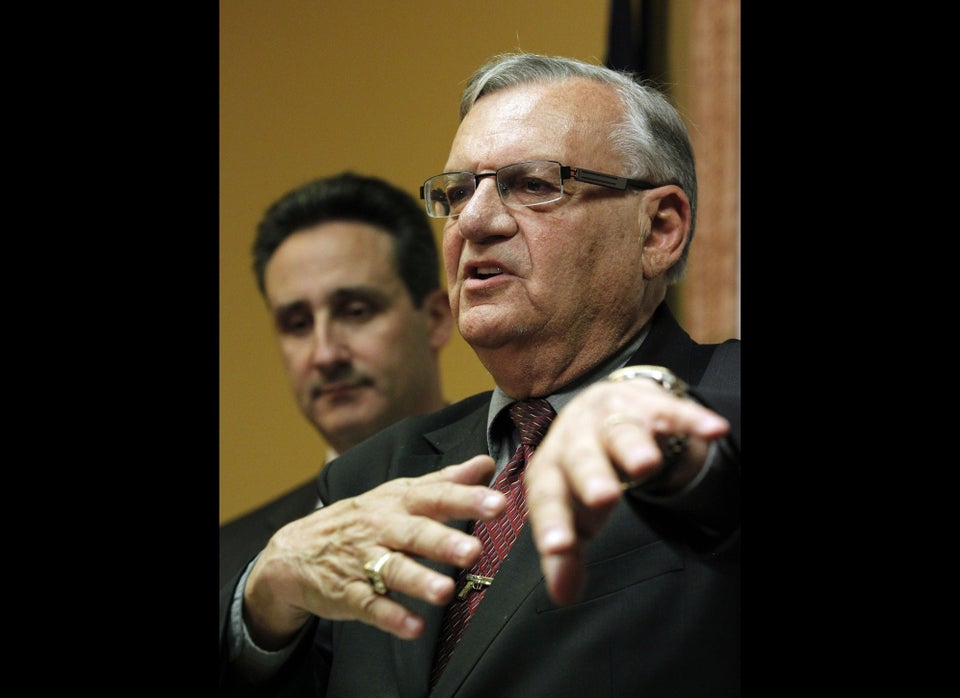 DOJ Lawsuit Allegations Against Arpaio
Popular in the Community