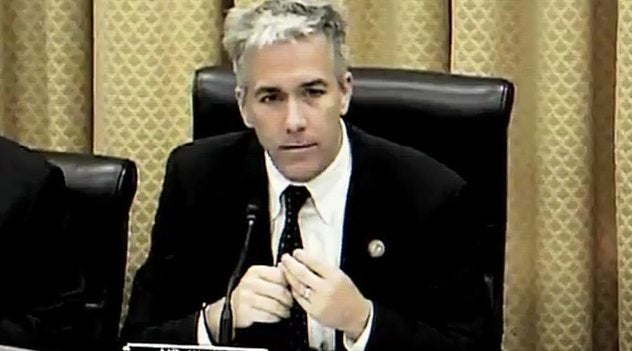 During a House Committee on Oversight and Government Reform hearing last week, Walsh told the all-male panel that President Barack Obama's plan to eliminate co-pays for birth control was an attack on religious freedom.
"This is not about women. This is not about contraceptives. We know, you've said it, we've said it up here. This is about religious freedom. This is about religious liberties," Walsh told the panel.
One of Walsh's opponent's in Illinois' 8th District, however, believes her GOP rival's positions are out of step with his constituents. Iraq war veteran and Democratic candidate Tammy Duckworth released a statement blasting Walsh for his stance on birth control coverage.
"Contraception is a basic part of women's health care and I am saddened to see yet another important issue become a pawn in the political minefield in Washington," Duckworth said. "... To claim that a discussion regarding access to birth control isn't about women is yet another example of how out of touch he is."
EMILY's List, a national pro-choice organization, is endorsing Duckworth in the 8th District race, and released a television ad blasting the all-male contraception panel this week. (Watch it below)
"Women are saying: enough," Stephanie Schriock, President of EMILY's List, said in a statement. "That picture told women everything they need to know about the radical, right-wing anti-women conservatives in Washington who are using their power to set women back decades."
Duckworth, who faces fellow Democrat Raja Krishnamoorthi in a March primary, told HuffPost Chicago 8th District voters have "buyer's remorse" when it comes to Walsh, who she says is more concerned with being a "poster child for the Tea Party" than representing the people of Illinois.
"The people of the 8th District want someone in Congress who will work to protect their privacy and their health, not someone who will trade the best interests of women and their families for cheap political gains," Duckworth said.
WATCH Walsh's testimony on the birth control mandate here:
Calling all HuffPost superfans!
Sign up for membership to become a founding member and help shape HuffPost's next chapter
BEFORE YOU GO