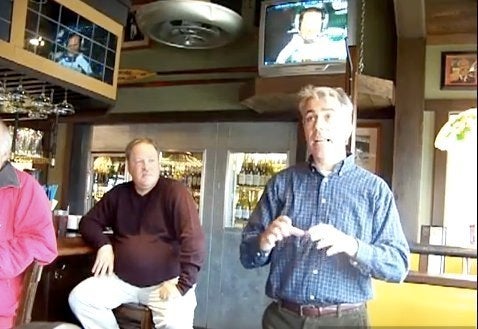 U.S. Rep. Joe Walsh (R-Ill.) had an interesting explanation for flying off the handle during a recent meeting with constituents: he was debating on an empty stomach.
The Tea Party favorite was caught on tape screaming at constituents during a "Cup of Joe" event held in the Chicago suburbs over the weekend after some participants criticized big banks for their role in the financial collapse.
After one attendee grilled Walsh about the lack of regulation which ultimately allowed banks to bet against their own customers, another pointed out the presence of bank lobbyists in Congress and other financial regulatory agencies.
Walsh cut off them off, and screamed at one man: "Don't blame the banks ... that pisses me off" before telling the calm constituent that he was going to ask him to leave if he didn't stop talking.
"I am very passionate at these events as well as at my town halls," Walsh wrote. "This was no different except I was working on an empty stomach and had a quicker fuse than normal."
He went on to say that he apologized to one woman he had a "heated exchange" with, and she "smiled and didn't mind at all."
The man who recorded the "Cup of Joe" session, which was about an hour long, told the Chicago Tribune it was unfortunate that only a portion of the video was being circulated online.
"My feeling is Joe was responding aggressively. Let's not say aggressively. He was very animated in his response to some of the people who came with their own agendas," the Walsh supporter told the Tribune.
Walsh also clarified his stance on big banks to Capitol Fax:
"Regarding the substance ... of what I was trying to say - I'm no pal of the big banks and I wouldn't have voted to bail any of them out. If they've abused their charters they need to be prosecuted fully. But they didn't get us into this mess - goverment policy which has dictated for years that everyone should own a home got us here. The banks only followed the rules government set. And further government meddling will only exasperate the problem."
Calling all HuffPost superfans!
Sign up for membership to become a founding member and help shape HuffPost's next chapter
BEFORE YOU GO