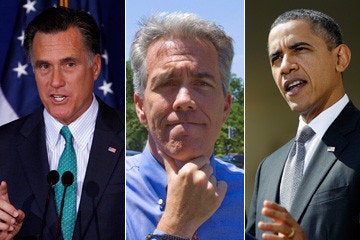 "If the name Mitt Romney doesn't exactly get you all fired up, tough," Walsh told a group of supporters last week. "If Newt Gingrich or Rick Santorum or Ron Paul ... if you don't think he's the great savior that's gonna deliver this America back to us ... tough! I can tell you, whoever my nominee is, if it's Mitt Romney, doesn't matter to me. I am gonna run through a wall to get that person elected."
"Americans, I think right now, probably want a boring fixer," Walsh said. "We elected a sexy Messiah three years ago and look what he's done. I'd rather have a boring guy who can fix things. I actually think he'll pretty quickly understand and do what needs to be done."
Democrats Tammy Duckworth and Raja Krishnamoorthi face each other in Tuesday's Illinois primary to take on Walsh in the 8th.
"He's going to have big problems," Krishnamoorthi told The Huffington Post of Walsh. "His actions ... his votes ... run totally contrary to the interest of middle class job creation. He's going to have a very tough time winning in the 8th."

REAL LIFE. REAL NEWS. REAL VOICES.
Help us tell more of the stories that matter from voices that too often remain unheard.