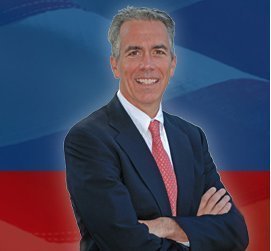 Four Illinoisans took the stage at the National Tea Party convention in Nashville, Tennessee last Friday. A crowd of around 200 awaited their words.
Three of the four men were party activists and bloggers. The fourth was Joe Walsh, a man who holds the title of first Tea Party candidate to win an election in Illinois.
Before the Feb. 2 primary in Illinois, the most attention Walsh had gotten was when the other Joe Walsh (guitarist for the Eagles, Barnstorm, etc.) sued him for gross copyright infringement for using his songs in campaign advertising and events.
But with a decisive win in a crowded field in the Republican primary for Illinois's 8th District congressman, Walsh the candidate has started to turn heads. He campaigned as a "tea party conservative first and a Republican second," according to conservative blog The Illinois Review. And with Illinois's primary the first in the nation this year, that makes Walsh the first Tea Party candidate in the nation in the 'W' column.
A number of other Tea Party-affiliated candidates suffered rebukes at the polls in Illinois, including those running for Governor and U.S. Senator.
But Walsh's win was noted by the Wall Street Journal, and conservative pundit Bill Kristol told Fox News Walsh would pose a strong challenge to the incumbent congressman, Democrat Melissa Bean, in November.
Of his address to the convention, Walsh told the Daily Herald, "I had a fairly receptive crowd. They were incredibly curious to hear from me, how it felt to run and the things we did to win."
"They wanted a candidate's perspective," he said.
Popular in the Community