 Rep. Joe Walsh (R-Ill.) is no stranger to controversy, but in the wake of his recent comments about radical Muslims "trying to kill Americans every week," members of the Muslim community in Illinois are hoping to show the congressman they are just as American as he is.
According to the individuals leading the effort, Walsh, who represents Illinois' 8th congressional district, has agreed to meet with members of the local Muslim community on Friday. At least 130 Muslims are expected to attend the meeting in Lombard, a suburb of Chicago located in DuPage County.
"It looks like Congressman Joe Walsh is not familiar with the diversity in his district at all," said Moin "Moon" Khan, the county's first Muslim elected official. "No matter how much he accused us, we are going to be very tolerant, and we would like to just show him our identity, our culture and how truly American we are."
"One thing I'm sure of is that there are people in this country -- there is a radical strain of Islam in this country -- it's not just over there -- trying to kill Americans every week," Walsh said. "It is a real threat, and it is a threat that is much more at home now than it was after 9/11." He added that the radicalism had found its way to the Chicago suburbs, including those he represents.
His comments quickly attracted the ire of the Council of American-Islamic Relations and Walsh's Democratic challenger Tammy Duckworth, who said that he was demonstrating "why he is not fit to hold political office."
"It's important to know that the Department of Homeland Security and the FBI have severed all ties with CAIR because of their ties to terrorism," he said in the video. "Let me be clear, bowing down to political correctness has and will get Americans killed. While the overwhelming majority of Muslim Americans are as peace-loving as everyone else, there are radical Islamists right here in the United States trying to kill Americans and destroy this country."
Khan, a Republican, is the principal organizer of Friday's meeting and said it took him several tries to connect with Walsh. His goal is to foster a dialogue between Walsh and the many Muslims who reside in Illinois, in order to both improve Walsh's understanding of the community and its intentions and make him more aware of the consequences his words could carry.
Just days after Walsh delivered his speech, a man fired gunshots at a mosque in Morton Grove, Ill, just 15 miles away from where Walsh had held his town hall. Nobody was injured.
"I'm all for freedom of speech," said Shazia Sultan, a Muslim American HR consultant from the Chicago suburb of Oak Brook, who took the lead on rallying support for the event with Walsh. "But there's consequences and you have to be held accountable for your actions."
"I have two little kids, and after the attacks on schools and mosques, you get worried," she added, noting that her children are aged four years and 18 months. "What if I'm praying with my kids and a guy comes in and shoots us? It's very, very scary."
Walsh's office did not immediately return a request for comment about the meeting. Khan said he spoke with Walsh over the phone to arrange it and found the congressman was receptive to hearing what the community had to say, but maintained that he was concerned about radicalism among Muslims.
In the decade since 9/11, Muslims have largely been unable to separate themselves from the perception of radicalism. A poll released on Thursday showed that 57 percent of Republican respondents have an unfavorable opinion of Muslims as a whole, while 47 percent have an unfavorable opinion of Muslim-Americans.
Khan said it is imperative that Walsh be more cautious in his speech and not practice "politics of division." He and Sultan hope the meeting serves as an opportunity for Muslims to set a tone of tolerance and build a stronger, more unified community.
"This meeting is not a meeting of high-profile people. It's not a meeting of faith leaders," Khan said. "It's a meeting of common people -- people who want to live peacefully in their own homes, just like the common man."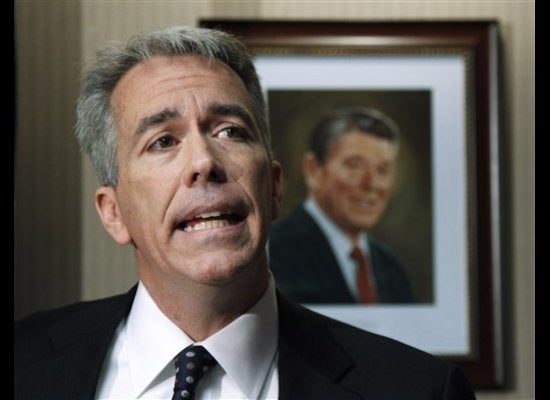 Rep. Joe Walsh's Most Outrageous Statements
Popular in the Community