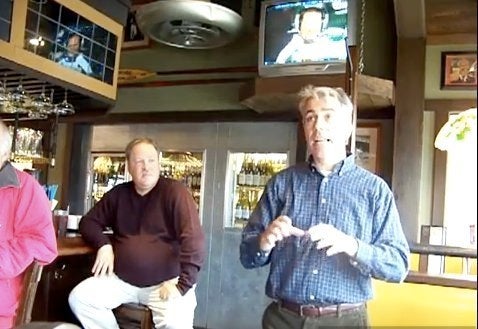 Story updated with response from Joe Walsh

U.S. Rep. Joe Walsh (R-Ill.) met with some constituents in the Chicago suburb of Gurnee Sunday -- and apparently didn't like what some of them had to say about the role of big banks in the financial collapse.
The "Cup of Joe with Joe Walsh" event was held at an UNO Bar & Grill in the northern suburb, and "a number of topics were discussed," according to Round Lake Area News. But, as ThinkProgress reported Tuesday, Walsh did not like when the conversation turned to big banks and their power within government.
(Watch the full video taken by District116 here)
After one attendee grilled Walsh about the lack of regulation which ultimately allowed banks to bet against their own customers, another pointed out the presence of bank lobbyists in Congress and other financial regulatory agencies.
Walsh cut off the man, and screamed at him: "Don't blame the banks ... that pisses me off" before telling the calm constituent that he was going to ask him to leave if he didn't stop talking.
"I don't want government meddling in the marketplace," Walsh said. "Yeah, they move from Goldman Sachs to the White House, I understand all of that. But you gotta' be consistent. And it's not the private marketplace that created this mess. What created mess was your government, which has demanded for years that everybody be in a home. And we've made it easy as possible for people to be in homes."
Walsh, a Tea Party Favorite, then suggested that the federal government stop funding the U.S. Postal Service.
"If the Postal Service can't compete in the marketplace," Walsh shouted. "I am tired of propping it up."
... I am very passionate at these events as well as at my town halls. This was no different except I was working on an empty stomach and had a quicker fuse than normal.

The woman I had the heated exchange with was great and she appreciated how open and unusual these events are. I apologized to her for getting a bit to passionate and she smiled and didn't mind at all.

Regarding the substance rich of what I was trying to say - I'm no pal of the big banks and I wouldn't have voted to bail any of them out.
Read his full response here.
Popular in the Community