 WASHINGTON -- Former Rep. Joe Walsh (R-Ill.), a Tea Party favorite who lost reelection in 2012 to Rep. Tammy Duckworth (D-Ill.), is launching a super PAC to fight efforts by establishment Republicans to block ultra-conservatives like himself from winning primary elections.
Walsh announced his latest effort on Tuesday via Twitter. "I'm filing the paperwork to form a super PAC to support freedom-loving conservative alternatives to @KarlRove on FOX," he wrote.
The reference to Rove involves the former George W. Bush strategist's newest political venture, a super PAC to act as a counterweight to more conservative groups like the Club for Growth and FreedomWorks by supporting establishment Republicans in primaries. The latter organizations have supported intraparty challenges to Republican senators and congressmen that some at the top of the GOP believe cost them control of the Senate in the past two election cycles.
On Monday, Walsh denounced the Rove effort on his Walsh Freedom Facebook page, arguing that if Rove had his way, there would be no Sens. Marco Rubio (R-Fla.), Ted Cruz (R-Texas), Mike Lee (R-Utah) and Rand Paul (R-Ky.). "Lee, Paul, Rubio, Cruz, Walsh .. all too darn conservative for Karl Rove. Game on, Mr. Rove. Let the fight for the soul of the Republican Party begin," Walsh wrote.
His new venture should come as no surprise to Walsh watchers. Elected in the Tea Party wave of 2010, Walsh ruffled feathers by consistently taking the maximal conservative position available. A frequent guest on cable news, he did not hesitate to criticize his own party and was strongly backed by FreedomWorks, another thorn in the side of establishment Republicans.
Indeed, Richard J. Stephenson, the founder of Cancer Treatment Centers of America and a top board member and donor at FreedomWorks who resides in Walsh's former suburban Chicago district, was so enamored with Walsh that he pressured FreedomWorks to spend $1.7 million to help the lawmaker win reelection. This spending came even though the district was redrawn after the 2010 Census to favor a Democrat and despite Walsh's penchant for controversial statements -- two factors that should have warned off an outside group from spending much money on the race.
Walsh did not immediately respond to a request for comment.
Before You Go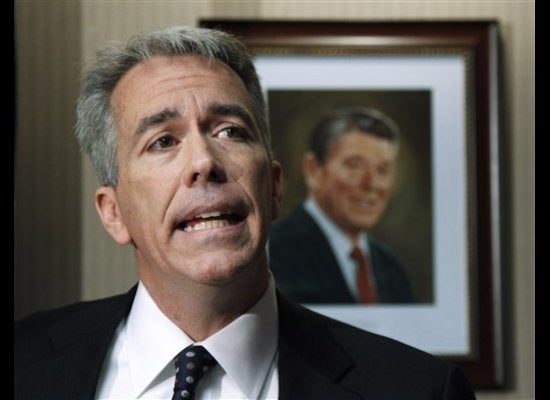 Rep. Joe Walsh's Most Outrageous Statements
Popular in the Community