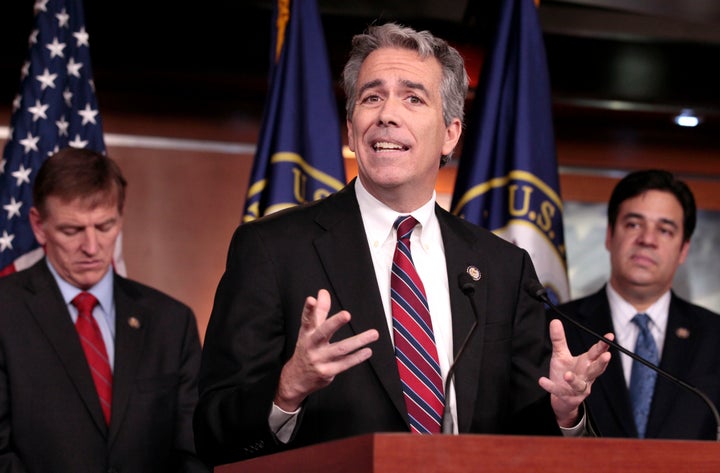 Rep. Joe Walsh (R-Ill.) found himself in hot water over the weekend for a controversial comment he made regarding Democrat Tammy Duckworth's military service, and attempted Monday to explain his words, though didn't offer an apology for them.
The congressman stirred up controversy on Thursday by seeming to belittle the service of the Iraq war hero running against him in Illinois' 8th District.
"What else has she done? Female, wounded veteran … ehhh," he told Politico. "David Axelrod, Rahm Emanuel just picked her up and dropped her into this district.
Chicago Magazine pointed out that choosing the phrase "picked up" and "dropped into" could be construed as particularly offensive, since Duckworth lost both her legs during her service in the Iraq war.
Not long after the comments were published, Walsh called with a clarification, admitting "I meant something other than how it came out." But he reiterated that Duckworth was simply chosen by Washington insiders.
On Monday the congressman released a statement explaining his point in more detail. He devoted a paragraph to show his respect for Duckworth's military service, and then continued to stick to his guns:
I will also reiterate what I said last week, which was that I, and people of the 8th district, want to know what Tammy has done in addition to her service, and where she stands on the issues. Wearing the uniform should immediately earn everyone's respect. It should not, however, earn everyone's vote.
The Democratic Congressional Campaign Committee has targeted Illinois District 8 as key seat to win back for Democrats, and state redistricting will make it harder for the Tea Party icon to win re-election in November.
10 more election stories from beyond the presidential field:
Bill Clinton Does Robocalls For John Delaney In Maryland 6th District [Roll Call]
Tom Barrett Calls For Clean Campaign Pledge [HuffPost]
Recall Petitions Filed Against Virginia Governor, House Speaker [Daily World]
'Insider' Label Complicates Rob Garagiola Run In Maryland 6th District [Politico]
GOP Endorses Brian Kalk For House Seat In North Dakota [Jamestown Sun]
Richard Lugar Under Attack From All Sides [Indy Star]
Pete Hoekstra's GOP Primary Rivals Line Up For A Fight In Michigan [Detroit News]
Max Baucus Is Out With Ad, Already Prepping For 2014 Senate Re-Election Campaign [Missoulian]
Popular in the Community