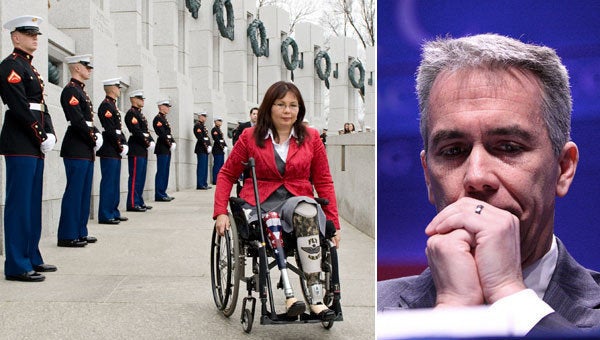 U.S. Rep. Joe Walsh was criticized by veterans groups this week after making a dismissive remark about his opponent -- Iraq war veteran Tammy Duckworth -- in a Politico interview.
"Tammy is a heroic veteran; Walsh a Tea Party icon who's so extreme he's doubling down on his extremism," DCCC chairman Steve Israel told The Huffington Post last week, adding that Walsh is "badly out of touch" with voters.
"I have so much respect for what she did in the fact that she sacrificed her body for this country," said Walsh, simultaneously lowering his voice as he leaned forward before pausing for dramatic effect. "Ehhh. Now let's move on."

"What else has she done? Female, wounded veteran … ehhh," he continued. "She is nothing more than a handpicked Washington bureaucrat. David Axelrod, Rahm Emanuel just picked her up and dropped her into this district."

"If you think working for America's veterans at the VA both in Washington and Illinois is nothing, if you think working to improve the economic lives of veterans is nothing, then Joe Walsh's record is below nothing," Jon Soltz, Iraq War Veteran and Chairman of VoteVets.org PAC said in a statement. He represents the do-nothing, obstructionist, extreme Tea Party wing of the GOP, not the values that Tammy stood up for."
"I often catch myself when I'm talking. I meant something other than how it came out," he said. "Because I never served ... I have an unbelievable amount of awe and respect for everybody who wore the uniform."
Calling all HuffPost superfans!
Sign up for membership to become a founding member and help shape HuffPost's next chapter
BEFORE YOU GO